The Jabberwocky's Best Toastie Recipes
Cheese is important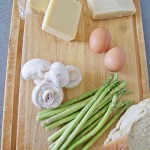 As we have so many toasties in our arsenal these days, it seems only right that the best toastie recipes should be shared with the world, so that we can all get together in cheese harmony and make the world a better place. Or just have a tasty snack.
Either way. For those of you who have lived in a well on the moon, a toastie is a sandwich that has been toasted. If you are a resident of the United States, you may call it a grilled cheese or, depending on your area, a panini or melt. While none of these are inaccurate, a toastie is generally squashed around the edges, to reduce ingredient leakage. The specific ingredients vary wildly, but it all starts with good bread, decent cheese and what ever else you can find.
See that search bar over on the left? Put an ingredient in there, chances are we have toasted with it at some stage.
If you do find that one of these recipes tickles your fancy, please show your appreciation by hitting a social media button. It's just the nicest way to use the internet. If you cannot find anything that speaks to you it's possible you're a vegan. Sorry about that.
Got an ingredient you want to toast? Challenge us! We have around 70 different combos, and are always looking for new ideas. Throw you idea on Facebook, we will get back to you as soon as possible.
We haven't had a toastie experiment since January. I'm not even sure how that happened, but a fresh toastie is long overdue. As it happens, part of the fallout from the Mock Turtle was that Barny came up with a recipe for BBQ sauce.  This was originally to go with the...
read more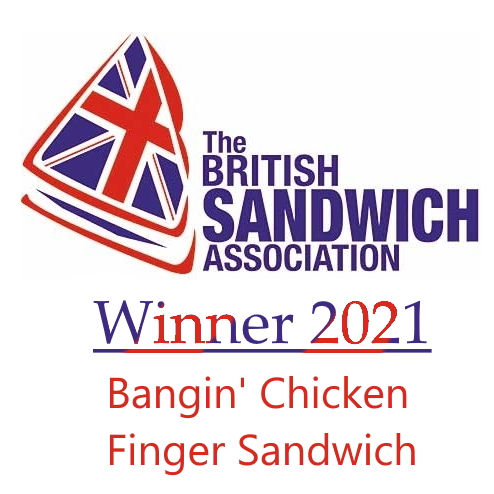 What are the British Sandwich Awards? The British Sandwich Awards, or Sammies, are an annual celebration of sandwiches and cafe food. Anyone in catering can enter, so we are regularly up against local cafes, big corporate sandwich producers, independant bakeries and...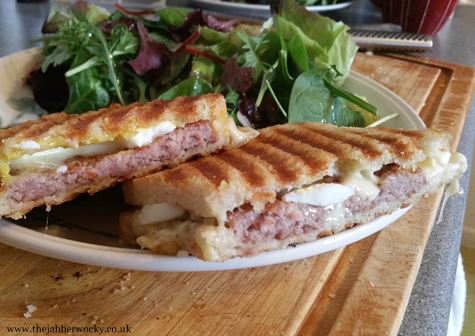 Yesterday we had a bit of a revelation on the filthy snack food front. What should have been an inappropriate mess of scotch egg toastie turned out to be really quite interesting. Sufficiently interesting that we decided to have another go at it today, rather than...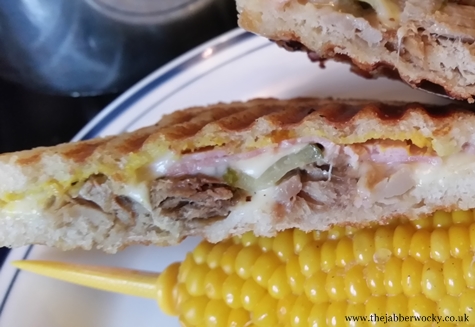 The Cuban toastie is one of these classic American sandwiches that everyone should have tried once. As we're now almost half way through Toastuary and things have been a little heavy on the seafood it's probably about time we serenaded you with a little bit of good...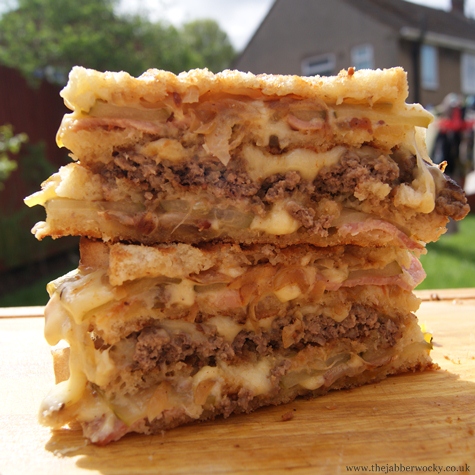 Fun Fact: The toasted sandwich burger actually exists in the US, although it is not traditionally this big. It's known as a "Patty Melt".  While happily adequate for the normal appetite, it doesn't really address the fact that a burger is filled with delicious foods...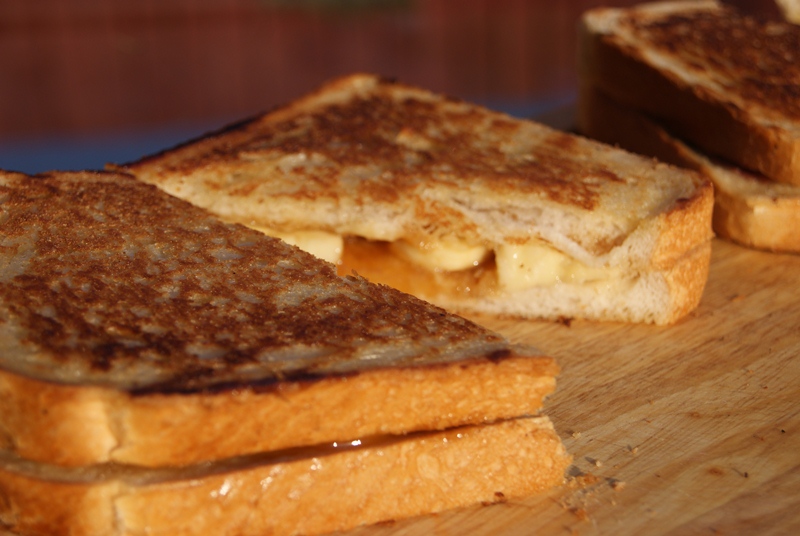 Truly, all things have a master. In the Halls and Shrines of the Great British Toastie, that master is surely the Banoffee Toastie. I shall introduce you, and then we shall talk some more. For the Banoffee Toastie you will need: 2 slices of fresh bread per person some...