Selling out might be a right pain for the consumer, but for us it is a triumph. Especially when the toastie that sells out is the most expensive one on the board, and especially when people see it, stare at it, and then come tell you they simply couldn't resist it. Such is the greatness of the venison toasted sandwich.


To those lovely folks who then came back and bought seconds whilst stopping to tell us how good it was, you are the ones that make this the best job in the world. But the deer season is almost over, so what was probably a firm keeper for the future will vanish for 6 months before we can serve it again.
To give it a decent send off I thought I'd share it with you, because it's just too good not to. It's also an excellent example of why it's nice to have a trained chef stashed away in your kitchen for making toasties. This recipe makes about 15, because chef quantities are endearing and also the only way Barny will give me recipes.
For the venison toasted sandwich you will need:
Braised Venison:
Front legs of venison
3 large onions
3 leeks
3 carrots
1 head celery
4 bulbs garlic
Red wine or Beer (what ever you have around)
Veg stock (for when you run out of wine or beer)
Cumberland sauce:
350ml red wine
250ml ruby port
1 orange
1 tsp redcurrant jelly
1 Pack of Portobello Mushrooms
Salt and pepper
500g Double Gloucester
Butter
30 slices of fresh white bread
Method:
Venison:
Roughly chop the veg and garlic, add to a large pot with the venison and season well. Cover with booze (use veg stock to bulk out the booze) – your piece of meat should be covered.
Pop in a pre heated oven at 130 °C until meat is tender, meaning it can be broken apart with a fork. It takes about 5 hours.
Once tender pull apart while still warm and store the meat packed in its own juices. This will keep it tasting amazing.
NOTE: Meatlovers may be tempted to opt for beef stock, but this will overpower the venison, so stick with veg, or chicken if you really need the extra meatiness.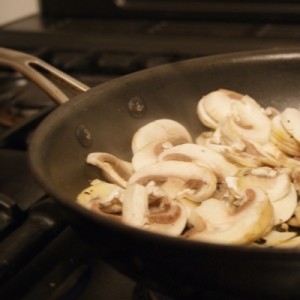 Slice the mushrooms, throw into a pan with a knob of butter, season with salt and pepper and fry until soft. Set aside.
Zest and juice the orange, then add all the Cumberland ingredients to a pan and reduce over a gentle heat, stirring occasionally. You're looking for the consistency of warm runny honey. Cool and set aside as well.
Butter your bread on the outsides. Slice on the double Gloucester. Mushrooms next, try and squeeze or drain off any excess water. Then pile on your venison and add a drizzle of Cumberland sauce. I know it was a pain to make, but be gentle, you really only do need a decorative squirt: it's potent stuff and will make the venison ferociously delicious.
Toast on both sides for two minutes each in a hot pan or toastie press, applying pressure throughout. It's done when the cheese starts to leak out.
There you have it, one venison toasted sandwich. Serve straight away. It should look a little like this. Only with double Gloucester. We ate that one before we took pictures.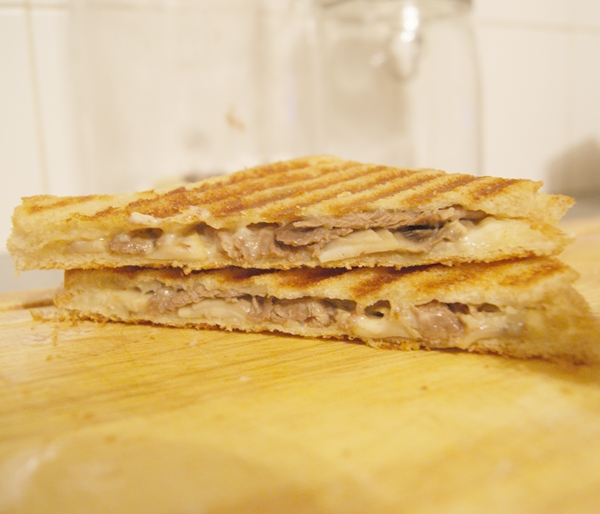 Getting pictures while Barny is cooking is like trying to film a wildlife documentary on an endangered species. Cooking happens incredibly quickly because he's a professional chef, so by the time I've got the camera out all the fun bits have happened. However luckily we research a lot of toasties, so sometimes I can catch a glimpse of an earlier one before it lands on the press and gets eaten.