Your Wedding
This is your day, so the food needs to sing the songs you love and be perfectly in tune with your guests. Let us make you a mix tape of delicious daytime picnics and warming evening street food.
View Menu
Reservation
Your wedding is all about you. A wonderful chance to show people from all over the country where you call home. Our wedding picnics are a showcase of local produce, sourced from our trusted suppliers or made by us, in house. 
Each one of our hampers – a centrepiece in its own right – feeds 6-8 hungry guests and will get them talking and sharing like they have known each other for years. 
We pack each one of our tasty offerings in a different way, stowed carefully within our hampers like a bundle of delicious kittens, just waiting to go and cute it up on your plate.
Discover pork pies from Birmingham, cheese from Earlswood,  ham from just off the Fosse Way and buns from our baker in Wellesbourne. This is quality food done right.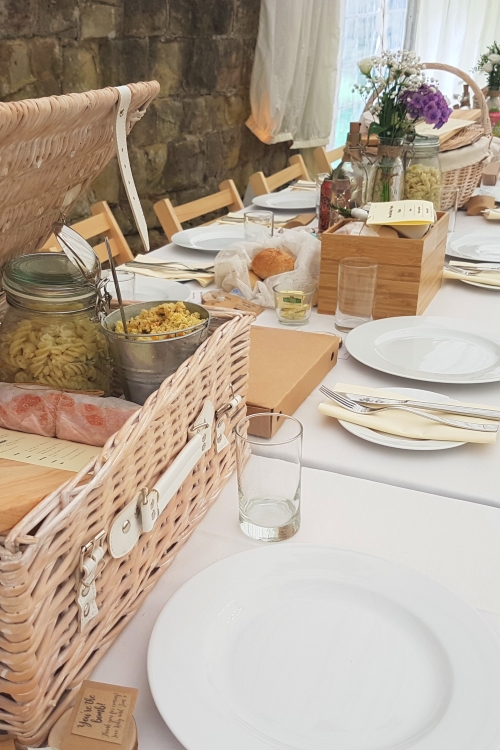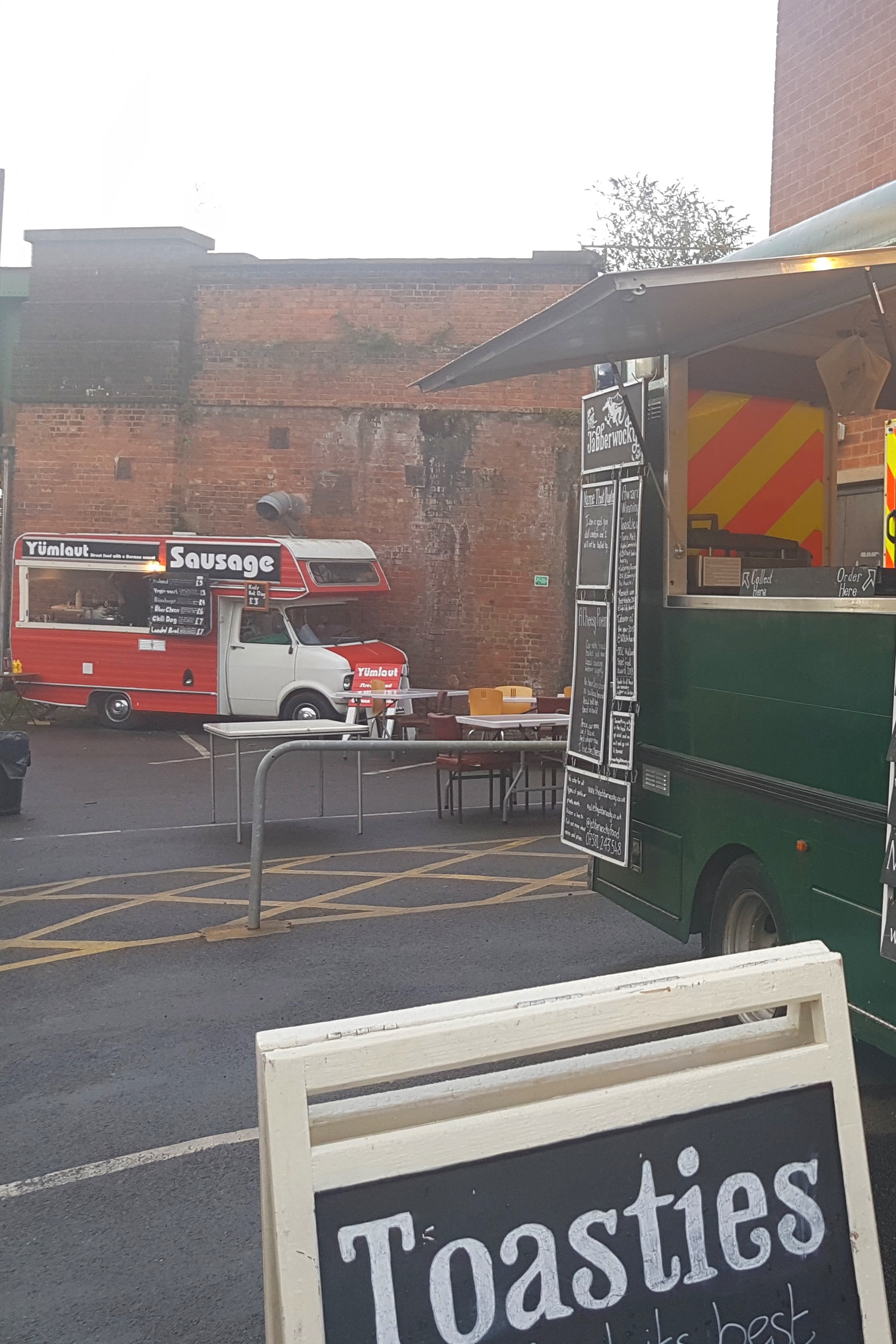 As evening draws in set the tone for the night with one of our street food specialities. Served from iconic food trucks by our awesome street food chefs, your dish is prepared in front of you and served with speed, humour and occasional cult movie references.  
We can serve any number of guests, at speeds of up to 300 portions an hour, but this is your wedding: you do you; we will back you up. How about lazy food that your guests can grab over a few hours in the evening, all cooked fresh and tasting good, perhaps with a brew to go with it for the designated drivers. 
We have made our name with multi-award winning, gourmet toasties, but that's just one idea. Why not try the toasties as a canapé and have a thigh-slappingly good, authentic German Bratwurst for dinner? Or let the Mock Turtle seduce you with all things sandwich? Perhaps serve our sweet French Toast desserts during the photos and have a roast dinner bap later on? Honestly, we could go on like this for weeks. The choice is yours.
Flexible Catering Everywhere
We have have catered weddings in barns, ruins, village halls and many of the classic Warwickshire wedding venues. We bring everything we need in our characterful food vans including, but not limited to, the kitchen sink.
A Pork Pie
Carcuterie Scroll
Homemade quiche
Cheese Board
Fresh Bread
Side Salads
Oven-fresh Sausage Rolls
Homemade Chicken Liver Parfait
Local Cheese Board
Quails Egg Scotch Eggs
Fresh Buns & Side Salads
Homemade Quiche
Roast Pork and homemade BBQ sauce
Free Range Chicken Wings
Halloumi or Chicken & Veg Skewers
Box-baked Camembert
Our food vans can both serve Yorkshire tea and ethically sourced caffetiere coffee all night. It's unlimited, keeps everyone topped up and means those noble designated drivers don't feel the chill.
Pick your favourite toasties off our gigantic menu and enjoy bite-size portions during the photos, after the service or whenever you need an extra snack for your guests.
Ask us for a full menu and then pick your favourites, mix and match or try and cram them all into one day. Our menus are tried and tested in the wild at festivals up and down the country and regularly feature in the British Sandwich Awards. 

We hired The Jabberwocky van for our wedding and everyone raved about just how amazing and tasty they were. Couldn't recommend them highly enough, so easy to communicate with and just all round lovely. 
Emily B.

"I would highly recommend"
"I cannot thank The Jabberwocky enough for their amazing toasties at our wedding on Saturday! All of our guests were raving about them with everyone going back again, again, and again. "
Becky P.

"Barny was fantastic and made our event the talk of the town I can't recommend him enough – so good in fact I may need to organise another event just to taste the delicious toasties again"
Tamsin H.

"We'd been to weddings before with similar catering and been left hungry because there simply wasn't enough food to go around. I needn't have worried, as everyone raved about the food and there was so much left over!"
Amy C.
We're an established Warwickshire micro business that has been living, working and serving here since 2010. We love what we do, and we hope that shows in the food we serve and the company we keep.
I feel like we should start this with "My Way" by Sinatra. It is with a heavy heart that we are selling Betty. Our beloved 1981 Bedford CF250. She was bought by us in 2015 and Barny lovingly converted her from a campervan to the glorious red masterpiece she is today....
Any date is a great date to get married, and we have sporadic and occasionally short notice availability throughout the year. However we are creatures of habit, so this should give you an idea of how our bookings tend to pan out.
MARCH – MAY
Great Time To Get Hitched
JUNE – AUG
Limited Dates – festival season calls!
SEPT – XMAS
Great idea, email us for details.
XMAS – FEB
Off Season (we're probably asleep)
Drop Us a Line
We need to know the date, the number of guests, the menu and the location.
If you don't have these things yet then we can still give you numbers and details, even if we can't formalise a full quote.