It is now officially December, which means that after almost a month of covert Christmas toastie making, we can now deck the halls and get our festive on. This year is our third Advent on toasties, and our third one with the mince pie toastie specifically. It has enjoyed a certain dubious fame over the years, as the people of (mainly) Leamington Spa wrestle with the concept of mincemeat in anything other than pastry, but 2014 has been a very good year for it.
This is the first year Barny has made the mincemeat himself, meaning we have an unlimited supply, and can therefore smash out as many deep fill, brandy butter smothered, melt in the mouth fruity toasted sandwiches as we want. Prior to that the recipe was a family heirloom of his mum's, and we had to order mince meat weeks in advance to ensure delivery from the Proper North (which I'm informed is North Yorkshire and beyond).
The mincemeat recipe was originally composed by Mary Spencer, Barny's Great, Great Grandmother, some time around 1890, and has been minced every Christmas since, including when Barny himself was just a tiny northerner. Back then he did the mincing in the kitchen with an army of dachshunds fighting hopefully at his feet for accidental scraps, as is the tradition.
Obviously this mincemeat will make delicious pies, but if you haven't tried it in a toastie you're missing out.
Mincemeat Recipe
Ingredients
500g Raisins
500g Currants
500g Sultanas
500g dried Figs
200g Glacé cherries
7 large Bramley Apples, peeled and chopped roughly
400g Suet
750g Soft Brown Sugar
250g pitted Dates
100g dried Apricots
Zest & Juice of 1 Lemon
Zest & Juice of 1 Orange
1/2 tsp Nutmeg
1/2 tsp Mixed Spice
1/2 tsp Cinnamon
1/2 tsp Ginger
1/2 tsp Mace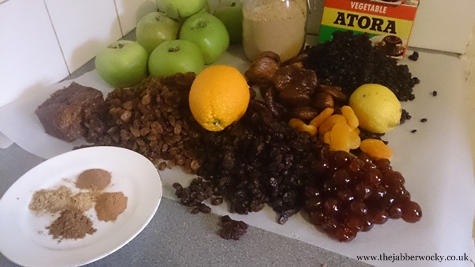 This makes around 4 litres of mincemeat. The quantities are neatly arranged to work on volumes readily available in the supermarket, so although it looks like a long list, it's not hard to come by, especially at this time of year. You will also need a reasonably sturdy mincer. Dachshunds are optional.
Method
Squeeze citrus juice and zest over the chopped apples. Reserve a handful each of raisins, sultanas and currants to one side.
In a separate bowl mix all the remaining dried fruit together, then take a handful of fruit and a handful of apple and mince together on the coarsest setting. Repeat until you run out of fruit.
Add sugar, suet, spices and the remaining dried fruit and give it all a good stir.
Bottle it up into sterilised jars and it will keep unopened for a good two months at room temperature.
Bonus gluten free option: get some gluten free beef suet from you butcher and use that instead. Bam!
Bonus Mince Pie toastie option: Butter bread on the outside, fill with a heaped tablespoon of mix (compare that to the tiny teaspoon in a mince pie) and toast until golden brown, then serve with brandy butter.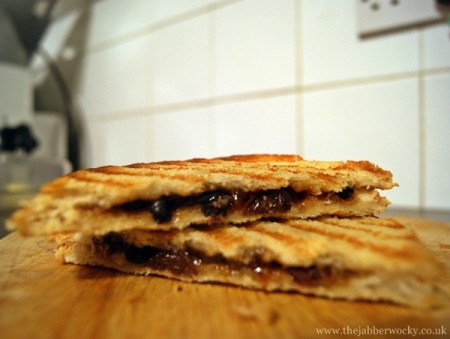 It really is that simple. Just a side note: with an electric mincer it will take about 10 minutes, if you are going old skool hand-cranked then you can expect to be at it for around an hour.
Your next chance to catch one of these bad-ass Victorian beauties is at Fargo Village on Friday night from 5pm, at the Winter Market in Digbeth on Saturday and that evening at Avoncroft Museum in Bromsgrove, and then in our usual spot on the Parade in Leamington come Sunday.