There had to be a new, filthy triple-decker at some point this month, and while the Full Monty is magnificent in it's breakfastness, it is not an all day toastie. It follows then that we save the most obscene for last. If you can make a surf and turf toastie work, I think we have a fair shot at making anything delicious.
There is a hitch though. The surf and turf toastie is currently only an idea, and won't actually be tasted until tonight. Tonight we are having a customary toastie tasting, where we drag our usual crowd of obliging guinea pigs over, feed them toasties and ask for insight. This makes a write-up reasonably tricky, because if at all possible I'd rather avoid a toastie based lunch, seeing as we're having a toastie banquet later.
So I will give you what I can, and then finish things off later. Final versions may vary. Oh, and if you are coming, tonight, you may want to save room for this…
Edit from 2/2/15: A whole day of food coma followed, and I didn't even eat that much. Once we surfaced and had surveyed the wreckage of the kitchen it was time to think back to that final toastie and tell you what it was like.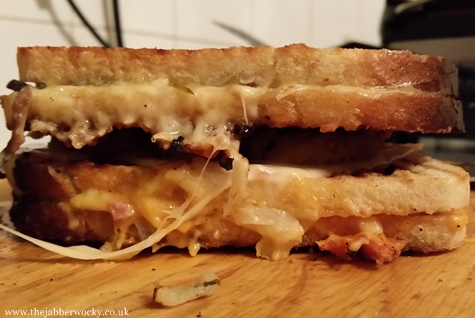 Surf and Turf Toastie – Board Cows
Braised Beef
Gouda
Gherkins
Edam
Mac n Cheese
Red Leicester
Whole-tail breaded scampi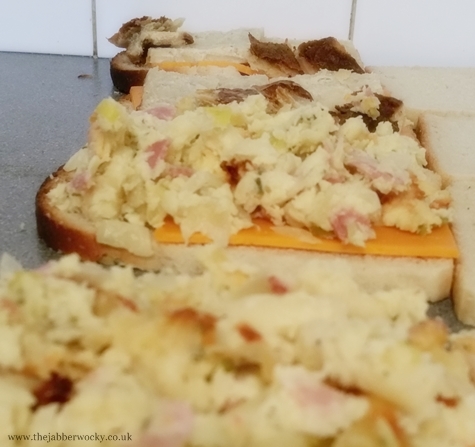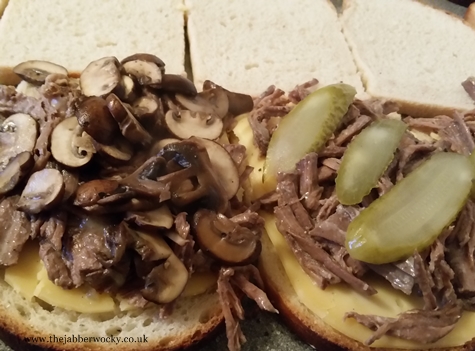 Surf and Turf Toastie – Wave Strimmer
Braised Beef
Gouda
Sauteed mushrooms
Edam
Red Leicester
Dauphinoise
King prawn and red pepper skewers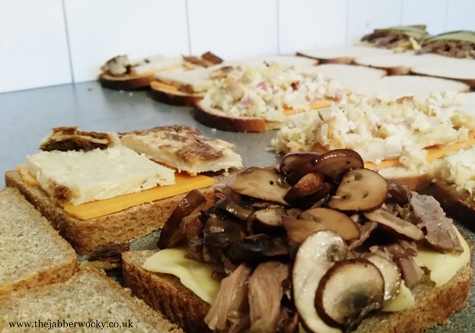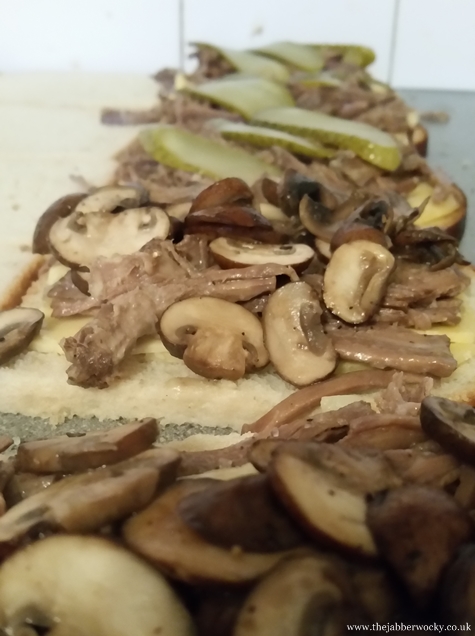 Taste
Board Cows. It ticks all the boxes. The gherkins didn't really add anything, but there wasn't any need to. There was filth in abundance. Glorious cheese, interspersed with shots of scampi and the mellow goodness of melt-in-the-mouth beefiness. For me, this was rivalling a Manwich. Not quite as meaty, but every bit as delicious. It was missing something, perhaps mushrooms? A tiny scrape of sauce? Still: 9/10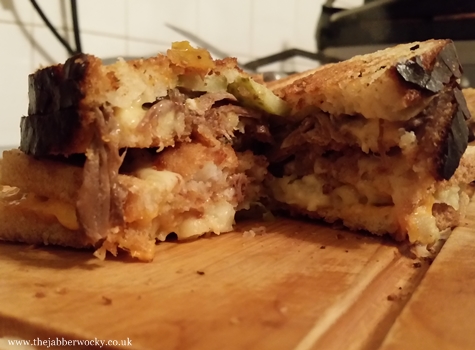 Wave Strimmer was probably my preferred combo on paper. I wanted the dauphinoise to work. I'm not sure why – probably just because I was hoping to find something that could rival the mighty mac n cheese. It was actually slightly better than I had hoped for, but so close on the heels of the Board Cows was a lot to live up to. Still cheese, still meaty and still with a great seafood quality, but almost too refined for the level of filth we were looking for. Dauphinoise and king prawns are just too nice. Not withstanding this, it was an excellent toastie and if I'd not just eaten 6 others it would have been a meal to remember. 8/10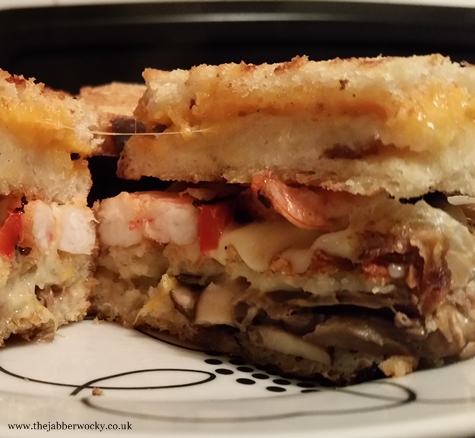 Appeal
Seafood is another hard sell, so we have spiced it up with every possibly delicious alternative we could think of. The end result looks great, tastes great and has the usual credentials of the giant, messy toastie. 8/10
Suitability as a signature
Once again we fall foul of my self-imposed signature regulations: no triple-deckers. But the important point is: Could anything ever be better than the ultimate triple-decker toastie? 6/10
Difficulty rating
There are a lot of bits to this one, not least a good few hours of braising to tackle before you can start to build your toastie. Rated for the adventurous only.
Summary
So that was toastuary 2015. I hope we go out on a bang. Tune in next week for graphs, data and summaries. Just in case you missed it, here is the whole month, one more glorious, cheesy time.