Fun Fact: The toasted sandwich burger actually exists in the US, although it is not traditionally this big. It's known as a "Patty Melt".  While happily adequate for the normal appetite, it doesn't really address the fact that a burger is filled with delicious foods like bacon and relish. Nor to does it tackle the fundamental geometrical differences between burgers and bread. It does, however, solve the greatest rhetorical question in the burger business:
What is the worst part of a burger?
Clearly, it's the bun. Not filled with meaty goodness, not doused in sauce and largely just there to keep everything together. We're going further. Today is the day we solve everything else as well.
For the Toasted Sandwich Burger you will need:
4 slices of day-old bread
7oz of best mince
1 onion, sliced and fried
1 gherkin, sliced
2 rashers of cooked smoked bacon
2 slices of Monterey Jack cheese
1 slice of cheddar
Your favourite relish
Special Sauce/Thousand Island/Russian Dressing
Barny's Burger Baste
Salt & Pepper
Butter
Equipment:
Toastie press
Frying pan
Ice cream tub lid
Pastry or Basting brush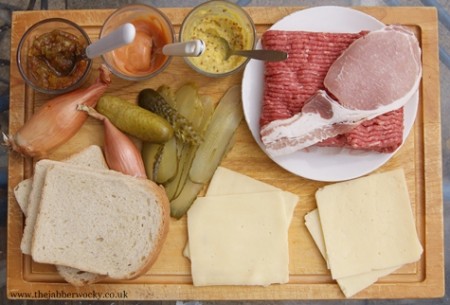 First, you need to make the burger. We have found that the lid from a 1l tub of ice cream is an excellent mould, but you can form the patty by hand as well. Press the mince together, squashing it down and slightly inwards so that it will hold together in the pan. Leave in the mould, cover and refrigerate while you continue, that will give it slightly more rigidity. Start preheating your toastie press and a frying pan with a little butter or oil in it.
Butter your bread and set the slices butter-side-down, then carefully scrape special sauce on two slices. It's important not to go nuts with the sauce: the structural integrity of you toasted sandwich burger relies on keeping that bread dry. Roughly tear the bacon into pieces and spread over each Special Slice, then top with gherkins, onions and relish. Finish with Monterey Jack and add your un-special slice. Your toasties are now ready; bosh them onto the toastie press. They will take around 4 minutes in a domestic press, the burgers will take slightly less. Flip half way through.
Whip the burger out and baste the visible side with Barny's Burger sauce. This is something he has been working on for years, and it is probably mustard based, but that's all I can tell you. For the sake of being able to recreate this at home I'd use mustard. Season lightly with salt and pepper as well, then flip it into the frying pan.  It will need less than two minutes on each side, depending on how you like your burgers. While it cooks baste and season the other side as well. Flip once at half time and add the slice of cheddar.
Once the toastie cheese starts to ooze out grab your burger, reverently place it on one toastie and top with second. Toast for a further few seconds and then serve immediately. Enjoy the admiration and acceptance of your peers that naturally follows the consumption of this stupendous creation. Book the rest of the week off for a nap.
Edit 2/10/14: After much deliberation this toastie is now better known as the Juggernaut following a twitter name-off won by @gav_owens.