This is a toastie with history. It has existed for almost as long as its namesake, the Manwich, but not in any tangible form.
The name Candy Manwich was suggested by the Rolles Royce Regulars, who have been road-testing toasties in the wild for years now. Their suggestion was greeted with much high-fiving on an excellent play on words, but no clear idea of what that toastie could contain. You have to admit that even without the pre-existing Manwich, it is the perfect name for a sweet toastie of ridiculous filthiness and size. The problem was then to find a combination that was worthy of the name.
After many, many lunches of trial Candy Manwiches and salad we have finally found the solution to the main problem: There is no sweet equivalent to steak. There's a reason why it's in capitals on the menu. Steak is important. It's indulgent, tasty and makes people do a very particular expression that can be roughly translated into writing as the word "fwoaaaaah".
As a Manwich it must, like its savoury brother, contain the sweet equivalent of a steak. It took us months to work out, and only a chance conversation with a friend to finally figure it out. After that, things fell into place. We will be cooking this sugar coma for the first time this Friday at Digbeth Dining Club, alongside the Manwich. We would cordially like to invite you to come try one, and want to just remind everyone that you probably don't need to eat anything else this month, if you plan on having both.
The Candy Manwich
You will need:
4 slices of day old bread
Butter
10 Mini Marshmallows
2 tablespoons of passionfruit curd
10 blackcurrants or blueberries (blackcurrants are nicer)
2 rashers of candied bacon (recipe)
A banana, sliced
2 Tablespoons of carnation caramel
And for the centre:
2 funsize Mars Bars
50g plain flour
50g self raising flour
A bottle of your local ale
A pinch of salt
It always had to be a beer battered Mars Bar. Or in this case, two.
Method
Preheat a deep fat fryer and your toastie press (a panini press is needed for this, your Breville won't be up to it).
Butter the outside of all four slices of bread. If were doing this, we're doing it properly and having it golden brown. Once you have added those extra few calories assemble two separate toasties.
The first will need the passion fruit curd, then a solid covering of banana and finally the bacon, chopped for ease of eating later. On the second you spread the caramel, then cover it with marshmallows and blackcurrants.
In a bowl, combine your flour and salt, then add a tiny splash of your beer. Stir that into a very thick paste, as hard as you can (think of all those calories you're burning – woo exercise!) to get rid of all the lumps. Gradually add more beer, stirring furiously, until you have a mixture that will reliably coat your finger.
Set the toasties going on your toastie press.
Spike the Mars bars on a skewer and twirl in the batter until they are thoroughly coated, then hold in the fryer, again twirling gently. After 10 seconds the batter should be sealed, you can then use a fork to ease the Mars bar off the skewer and let them drift there for about a minute. Keep an eye on the little beasties, as too long will cause them to burst. You want to just get the batter crispy, so take them out as soon as it starts to colour.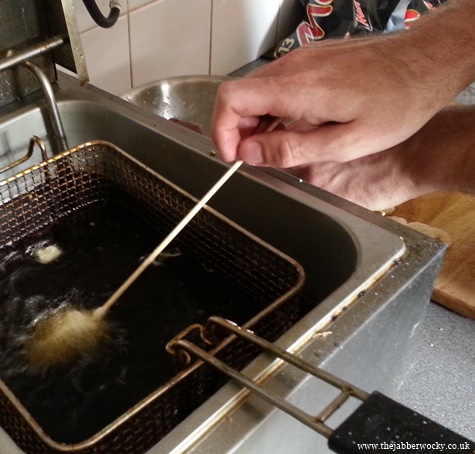 By this time your toasties should be coming along nicely, so pop your Mars bars on one, cover with the other and apply gently pressure. A few seconds later your Candy Manwich is complete.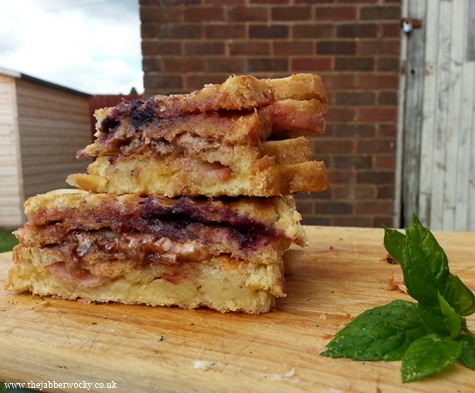 Serve immediately with a Manwich and a diet coke.