We haven't had a toastie experiment since January. I'm not even sure how that happened, but a fresh toastie is long overdue. As it happens, part of the fallout from the Mock Turtle was that Barny came up with a recipe for BBQ sauce.  This was originally to go with the restaurant's pulled pork bap, but as we don't need to serve that any more, because clearly it's not got enough cheese in, that BBQ sauce can now be re-appropriated for the BBQ Chicken Toastie.
Chicken first got involved after another of Barny's late night filthy toastie experiments, where a leftover Chicken Parmesan toastie (roast chicken, mozzarella, slow roast tomatoes and parmesan) got a squeeze of BBQ sauce added, because it seemed like a good idea at the time. It was a noteworthy moment in history.
So now we embark on more testing, to find a combination that is better.
First though, we should cover the BBQ sauce.
Jabberwocky BBQ Sauce
Ingredients
1 tsp cracked black pepper
1 finely diced onion
1 tin chopped tomatoes
1 tsp minced garlic (or one chopped clove)
1 tsp English mustard
4 tsp smoked paprika
1.5 tsps salt
2 dsp(dessert spoons) maple syrup
2 tsp maggi seasoning
2 dsp Worchestershire sauce
100g Demerara sugar
Method
In a saucepan, sweat the onions in a little oil with the pepper.
Add everything else.
Simmer for 30-45 minutes
Blitz out the lumps
Chill.
Technically this is a fairly straight forward one. Butter your bread (outsides only of course) and let us assemble.
The BBQ Chicken Toastie
Roast free range chicken, off the bone.
Double Gloucester Edit after further testing: Gruyere. With a dash of mozzarella.
BBQ sauce
Coleslaw
Sweetcorn
Cooked Bacon
We trialled three different versions: one with each of the bottom three ingredients. Slaw left no impression. Don't bother. Bacon and sweetcorn though.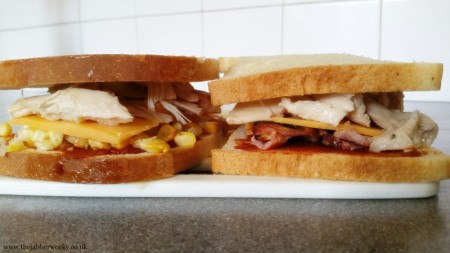 With Bacon.
Chicken and bacon are great together, and that barbecue sauce everywhere was just terrific. But. I think we lost a lot of the chicken under a hefty wallop of bacony goodness. It needed more cheese as well.
With Sweetcorn
It's a classic BBQ accompaniment, goes well with chicken and adds an interesting bit of crunch. It was a last minute edition because we happened to be having corn on the cob with lunch, so lopping off a bit and smacking it in seemed like a good thing. It was easily the best of the three, just full of tasty goodness, but again, lacking cheese.
So here is my recommendation, for when you try this at home. Pile in that cheese to start – go for flavour: mature cheddar, an aged double Gloucester or a decent Gouda (Edit: Gruyère with mozzarella to top).  Go easy on the bacon, perhaps half as much as the chicken, and cover with a generous helping of BBQ. Then fill with sweetcorn. Top with just a touch more cheese.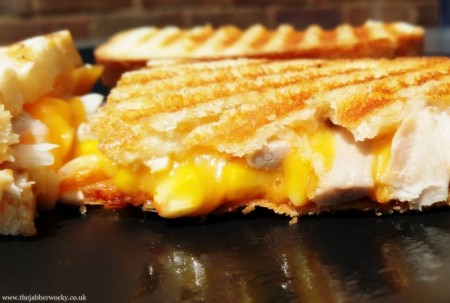 Meet the best version of the BBQ Chicken Toastie on our final weekend of trade, before the statistical probability of having baby has stopped us taking any more bookings. We will be at Digbeth Dining Club on Friday the 17th and Bournville Ale Festival on the 18th of July. That's not this weekend. At least I really hope it isn't.
This weekend we will be at Stratford River Festival, celebrating 4 years of Jabberwocky by the riverside.