The Cuban toastie is one of these classic American sandwiches that everyone should have tried once. As we're now almost half way through Toastuary and things have been a little heavy on the seafood it's probably about time we serenaded you with a little bit of good old fashioned cheesey meat bliss.
There are only slight variations between the two versions. Technically you are supposed to use Swiss cheese, which would be much closer to Emmental, Leerdammer or Jarlsberg, but Gouda and Monterey Jack are both a blissful match for gherkins and mustard, so we're substituting them instead.
The Cuban Toastie – Havana
Gouda
Sliced ham
Gherkins
English Mustard
Pulled roast pork
More Gouda
The Cuban Toastie – Miami
Monterey Jack cheese
Pulled Roast Pork
Cooked Bacon
Wholegrain mustard
Gherkins
More Monterey Jack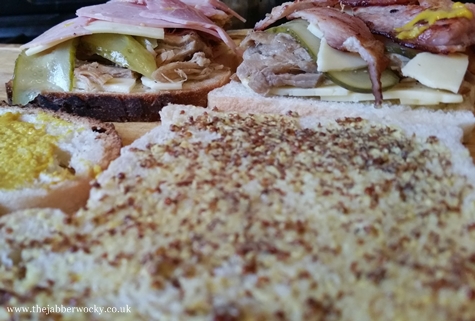 Taste.
Havana first. This is the more traditional of the Cuban toasties up for testing. It was splendid. It's full of flavour, it sweeps you off your feet and makes sweet, passionate love to your taste-buds. It has everything you could possibly want, and is chunky enough to keep you going for hours. If it were a crumbling dictatorship on a Caribbean island, I'd vote for it. 9.5/10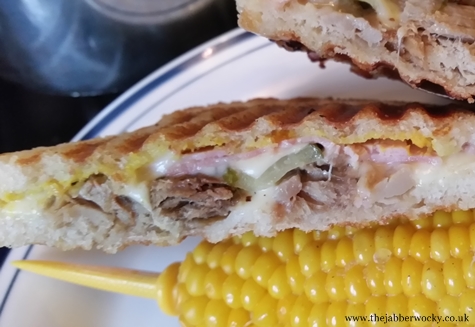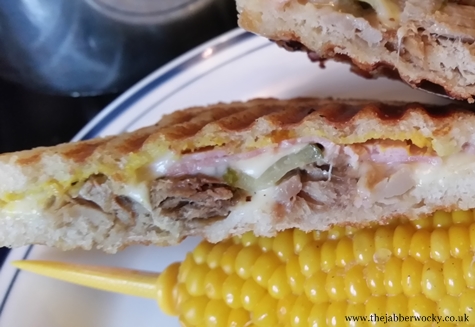 Heading north to the Miami I had high expectations, but it was the bacon that caused the problems. It's not better than a good quality ham. The wholegrain mustard was also slightly too coarse, and didn't pull everything together in the way a scraping of English mustard had. Strange. Normally I would always favour wholegrain over English. We live in crazy times.  8/10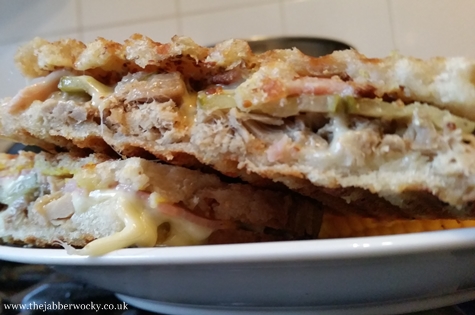 Appeal
Pulled pork is one of those magical foods that sells no matter what you do with it. I think the only thing that people will ask us to remove are the pickles, but we already have to suffer this for the Reuben as well. If you are a pickle hater, I'd urge you to at least try them. We leave them in nice big slices, so you can always pull them out later.  9/10
Suitability as a signature.
If it weren't for the fact that this clearly is already an established sandwich combination, I'd say we have found the toastie grail and can quit now. I'd like to try and make a locally sourced Cuban toastie. Then we might be onto something. 7.5/10
Difficulty Rating
Roasting pork takes a few hours and that makes this sandwich an investment. Luckily, once your shoulder is roasted off you have enough pork for a month of Cubans. Happy days. Rated long.
I could probably have eaten another two of these. Considering I've spent the last few weeks on the toastie diet (not recommended for weight loss, a calorie controlled diet or managing your carbs. Great for that all-important cheese boost) that's a solid endorsement.