Before Christmas I told you about our new old food van, and the thought process behind trying to have more vans than breakdowns in 2015. Then Toastuary happened, and the weather was both cold and wet. We also couldn't make many of the decisions necessary in street food van conversion, and things got a little slow.
So instead we have decided that rather than make this an epic one month race to the finish line, we will take our time with this conversion (assuming the Beast passes his MOT next month) and it will be ready when it's ready. This means I can tell you about the process at a more leisurely pace. Of course anyone planning a DIY street food van conversion to our plans Blue-Peter-style is advised to wait until the end. I'm not suggesting we will get it wrong, but I'm sort of trying to gently imply it. Standard stupidity disclaimer applies: there is no guarantee that our methods will be either safe or sensible.
Let's start with the basics.
Buying and Testing for a Street Food Van Conversion
We bought our Bedford CF 250 off Ebay. It's a wonderful place for knackered vans, but you are playing pot luck on them in terms of quality. You can find everything on there from rusted shells right through to top spec, fully converted van porn. That said, we nearly ended up with one off Gumtree, so it's probably worth looking there as well, just for funsies.
The reasons for the Bedford were twofold. Number one: we wanted a motorhome. Low mileage, lots of headroom and a van chassis rather than a car build. Tick. Number two: I think they're cute. Note that I don't want to be caught making Bedfords the next H-Van. There are certain places in London where you can't move without pranging a characterful conversion of this adorable French classic. Which is why, for the love of cheese, you should find your own, interesting vehicle to convert, and not pinch our idea (or buy an H Van).
Once we had bought the van, there was the travelling home. We managed this entirely under the Bedford's own steam, although we later discovered it should probably be running on leaded petrol. Worth checking. The next step was to find out if we had bought a bargain or a banger. Game show time!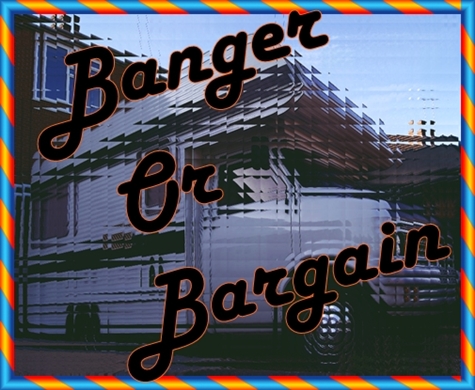 We took it for an MOT. For £40 our trusty local garage told us there was nothing horrifically wrong, and that there was just one little wiring fault. Bargain!
So we went deeper and got a full bells and whistles service. Trusty garage spent a whole day in there and came up with nothing worse than a cracked brake cylinder. To put this into context the Beast (long may he thunder) had an 11 point failure list just on the MOT and does not get taken for full services because we are pretty confident he won't survive the poking. Once again: Bargain!
The engine in the Bedford is sound. We even had a thorough poke around underneath for rust. These vans tend to rot around the doors. Considering it's age, this one is nearly rust free. Bargain!
Three counts of Bargain, no Banger counts yet. There will be some, but they come later. At any rate, our street food van conversion is going ahead. Next time: Decisions! Lecky or Gas, layout and what to do with the bed. See you then!
*Play theme tune*