Today was originally due to be Manchego day. It's a Spanish sheep's milk cheese we are both rather fond of. We have used it before in the Kofta toastie (spiced lamb koftas, roasted red peppers, raita and manchego) but never really experimented with it. I had heard it was a good match for duck, so when our supply of frozen duck came through for the Sandwich Awards, it seemed like the perfect excuse for duck toasties.
Duck Toastie – The Daffy
Cooked duck
Roast Fennel
Manchego
Duck Toastie – The Donald
Cooked duck
Onion marmelade
Red Leicester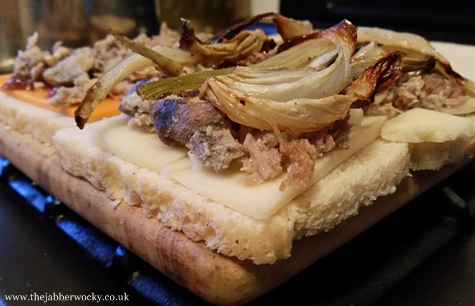 Taste
Daffy up first. Flavour-wise this was an interesting mix. There was enough going on to keep you taking another bite: Machego and duck are very palatable. Unfortunately duck, especially duck legs with the skin on, is very fatty. Combine that with the roast fennel and you have yourself an almighty grease bath. Braised would have been better, perhaps with another ingredient to give it extra depth. 6/10
Donald was a different story. The onion marmalade was having none of these fatty shenanigans and got straight to the point. The point was mostly onion marmalade, with a meaty little after-thought once you were done. It was nice, but it wasn't anything more than that. 7/10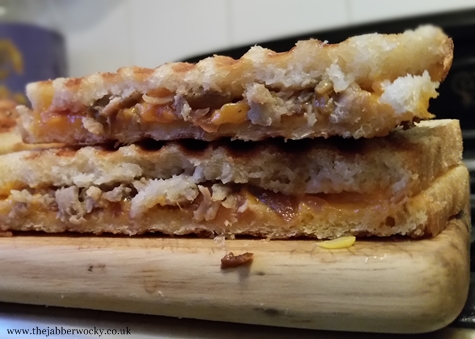 Appeal
Duck is right up there with game in terms of appeal. I think if the adventurous crowd were visiting, Daffy would go down well. It just needs a bit of a rethink. 6/10
Suitability as a signature
We're not there yet. I'd take the Daffy further, the Donald just didn't have enough interest. Neither are ready for the big time yet. 3/10
Difficulty rating
Fennel is not something most people cook with, so that would probably put some folks off. Rated Over the top.
Summary
I really wanted this one to work. I was hoping to sing glowing praises, but no. It's not a duck toastie yet. We're going to have another stab at this one later.