Stilton is currently only used in one of our toasties, the beef, Stilton and piccalilli. This is partly because it's such a strong flavour, but mostly because Barny hates it. This makes Stilton toasties fairly hard to develop. It's also a flavour that divides people, which will in turn divide our potential takings.
If it weren't for the fact that I love it nearly as much as soft cheese, we probably wouldn't ever use it. There was no way I was going to convince Barny to forego a meal for it though; so while these experiments are taking place, Barny is quietly munching a mushroom and gouda toastie behind the scenes.
Stilton Toastie
Stilton
Blanched Broccoli
Half Walnuts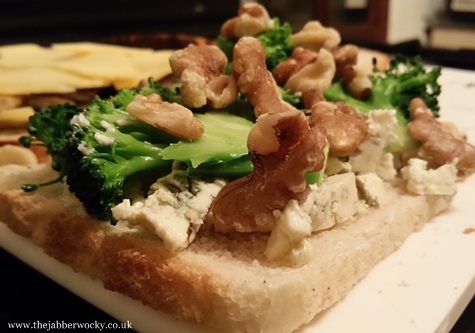 Taste
I love the creaminess of melted Stilton, the way the whole flavour just oozes. There was a whole lot of oozing, and then you hit a little bit of broccoli for some crunch. Crunch that is, of course, full of cheese. Walnuts are not my favourite, so they were largely incidental, but they are a great match for blue cheese. I would probably get the Stilton into a cheese sauce, rather like the scallop toastie, or a Stilton pate, like our existing Beef version. That would make it sensational. As it is: 7/10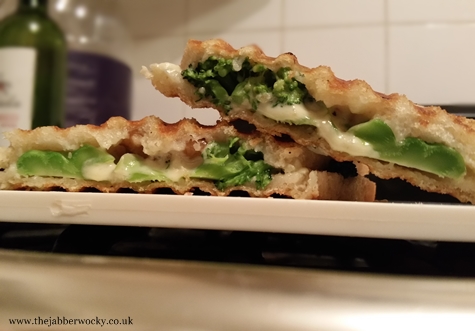 Appeal
This is a vegetarian toastie, so many meat-eaters will rule it straight out. It's also one of those controversial cheeses that people have surprisingly strong opinions about. This could be quite a hard sell. 5/10
Suitability as a signature
Barny hates it. Blue cheese is his kryptonite when it comes to recipe development, and a signature is only ever going to work if we are both behind it. 1/10
Difficulty rating
Blanching broccoli takes about a minute in boiling water. There, now it's easy. Rated Easy.
Summary
I'm not done with Stilton toasties yet. It's a different style from our usual faire as it's using veg as a main feature, which is delicious. and I think with a bit of tweaking this one could be toasted in the wild some day.