We had fellow streetfood buddies The Hungry Toad over on Saturday night, and Barny got his chef on and dauphinoised. The leftovers were right there, infused with all that makes potatoes filthy and delicious. We thought it only fair to give dauphinoise toasties a fair trial.
Lots of people have told us, over the years, that potatoes are good in toasties. Whenever I've tried them, I have been of the opinion that it was just too much potato. Carbs on top of carbs. Chip butty and crisp sandwich lovers will disagree, but the solid wall of potato in bread does nothing for me. Which is why dauphinoise is different.
Quick Recipe: Dauphinoise.
Reduce cream, brandy, salt & pepper and a broken bulb of garlic in a pan until thickened.
Mix with thin sliced potatoes (Maris Piper work well) and plonk in a gratin dish
Cook for 1-2 hours until potatoes are soft, remove, cover with baking paper and squash overnight
Cut into portions (smaller than you'd probably imagine, it's dense stuff) and reheat on a baking tray for about 25mins.
Dauphinoise Toastie – Bacon
Crispy fried Bacon
Dauphinoise
Gouda
Dauphinoise Toastie – Chicken
Roast Chicken
Dauphinoise
Gouda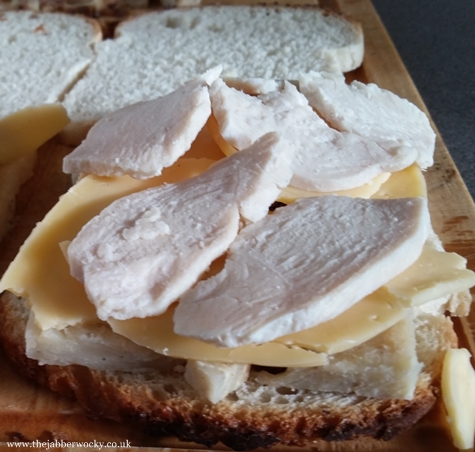 Taste
Bacon made this toastie into something approaching my all-time favourite dish, Tartiflette. Except that dauphinoise ranks slightly higher on the filth scales, due to the obscene amounts of cream you can stow in and around the potatoes. Perhaps, if I was nit-picking, I'd say the bacon was just a fraction too much. 8.5/10
Adding chicken to the dauphinoise toastie happened mostly because we are having it for dinner tonight, but low and behold, it also worked beautifully with cream-soaked potatoes doused in cheese. I have a strange feeling we'd be hard pressed to find something that doesn't, but I'm delighted to report that both of these do. If I was nit-picking, and goodness knows that's not normally my style, I'd say the chicken wasn't quite enough. 8.5/10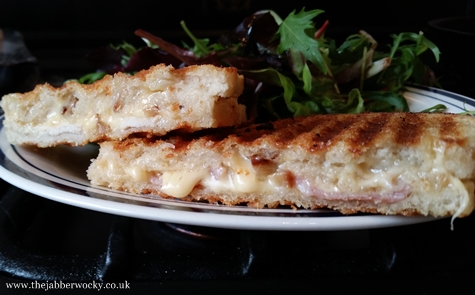 Appeal
I'm not sure how people would feel about this. You get a very filling toastie and it tastes fantastic, but it's not really a common dish. If you have any personal insight please drop me a comment. 6/10
Suitability as a signature
We mostly just tried this because we had leftovers, but now I feel like we should probably think more long term. This could actually be an interesting dish to work on as a signature. 8/10
Difficulty rating
You can short cut the potatoes by only cooking them once, but this is still a fairly arduous toastie for day-to-day usage. Rated Oh lala.
Summary
Given the very slight short-comings of the above, the perfect solution would be a dauphinoise toastie with bacon AND chicken. That would be magnificent.