Technically anything containing egg falls into the breakfast toastie remit. In that sense, following directly on from yesterday's Scotch Egg Toastie with the Full Monty is a bit samey. But that's in title only. This one has been a long time in the making, like all good triple deckers. Partly because we strive for excellence. Mostly because it's hard to eat more than one in a single meal.
Fans of the triple deckers will hopefully approve of this one. Fans of a smaller breakfast will probably want to check here for a previous investigation into breakfast toasties. Ingredients listed top to bottom by toastie.
Full Monty Breakfast Toastie – Fried Egg
Fried tomato slices
Fried mushrooms
Black pudding
Full Monty Breakfast Toastie – Scrambled
Gouda
Fried tomato slices
Fried mushrooms
Black pudding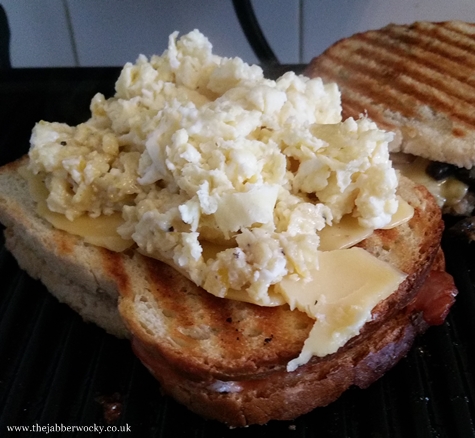 Taste
Fried egg is a classic, and despite previous issues (see the experiments above) we had to give it a shot. The lower half of this toastie is already our breakfast toastie, and adding more breakfast was just making it better. Unfortunately it was not especially stable, and the yolk made an immediate exit, before you ever got to eat it. 8/10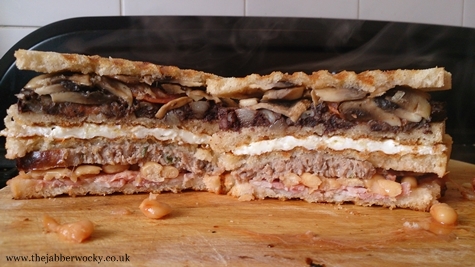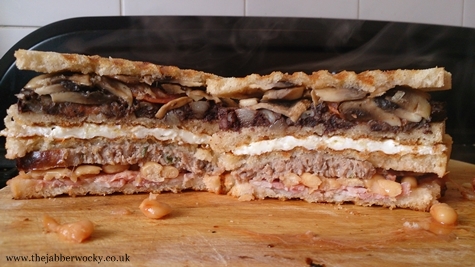 Substituting the fried egg for scrambled was an improvement. Substituting cheese for not cheese was, as usual, a good call. Everything stuck together well enough, although there are always structural problems with triple deckers, but the taste was superb. While scrambled eggs and cheese are not classic components, they are still part of breakfast. Giant, unnecessary but thoroughly amazing breakfast. 9/10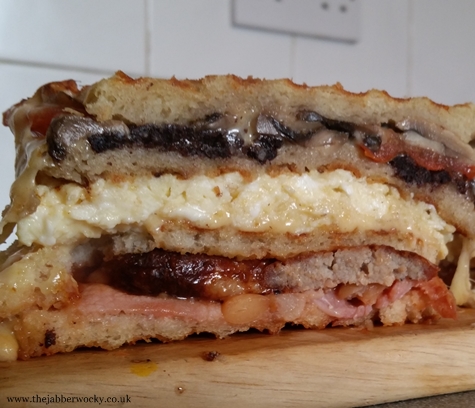 Appeal
I can think of no other way to eat a Full English with one hand. We will struggle to shift this one past noon, but I think it should still be inducted onto the menu 8/10
Suitability as a signature
Triple decker toasties. They are basically already our signature. This is effectively just a breakfast Manwich. 9/10
Difficulty rating
As toasties go, this one does need an entire breakfast cooking before you can start making your toastie. Rated long.
Summary
They weigh in at slightly more than a Manwich, and decidedly more filling than a normal breakfast. That said, they were spectacular, losing none of the full English pleasure, and adding all the delights of portability. Nailed it.