Happy new year everyone! It's January and we're all feeling fragile, so naturally we begin with one of the all-time marmite foods (marmite is up later in the month) and try an anchovy toastie. A month of toasties kicks off today, and there will be a new experiment every day, except when we forget.
I'm not a massive anchovy fan. I could eat sardines every day, but anchovies don't really do it for me. The salty little seafarers are not to blame for that though.
Two combinations up for testing:
Anchovy Toastie no 1 (well call it COGAT):
-Cheddar
-Dried Oregano
-Garlic puree
-Anchovy filets
-Tomato puree
Anchovy Toastie no 2 ( SPAM for short, just to complicate things):
-Mozzarella
-Pips Hot Sauce
-Anchovy filets
-Special Sauce (or thousand island)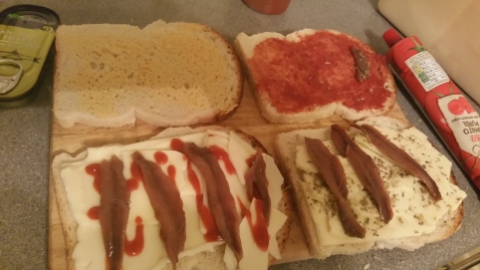 Taste.
The thing about anchovies is that they are really salty, and you need to counter that with other flavours. The Cogat takes an early lead here, but then again it is basically an Anchovy pizza. 6/10 for me, 7/10 for Barny
The Spam really didn't work for me, but Barny considered it fairly palatable. While that hot Sauce is amazing, it just didn't work with the fish. 4/10
Appeal
Anchovy lovers would probably try both, Anchovy haters won't go there. I would imagine both scoring a rather sad 3/10
Suitability as a signature.
I'm not feeling it. Too easy, too tinned. 2/10
Difficulty Rating
As there is no primary cooking involved this is a dead easy toastie in any incarnation. Rated: Easy-peasy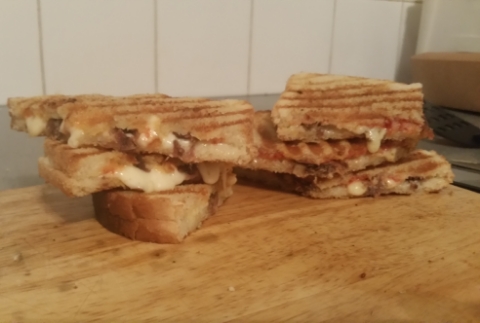 The Cogat is one of Barny's late night filthy snacks. While it may need a little more tinkering to get that score up, I think an Anchovy fan would be in salty, fish based heaven on this one. Not a high score to start, but we still have a long way to go.