The process of tendering. I have to admit I'm not a fan, even though it works in our favour some of the time. The organiser gives asks you to tender an amount that you would like to pay to serve at an event, collects these together and then uses their magic powers of divination to select the caterers they would like to have on site. Naturally the cynic would be tempted to suggest that they compare the pitch fees you have offered, and then carefully choose the largest numbers, but I like to think that is not entirely true.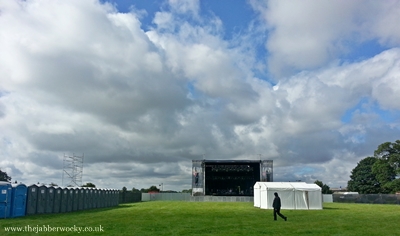 At a festival you are paying for exclusivity. If we were to rock up in an isolated field intent on selling at least a few ham and cheeses only to find another inferior (obviously) caterer offering toasties next door, we would not be chuffed. With certain festivals, notably free food festivals, you will always have a certain amount of crossover when it comes to mainstream foods like the hog roast, but generally speaking you tender on the understanding that you will be unique within a show.
The question that then follows is: How much do you offer?
Last week I was trying to establish how many units you could shift at any given festival. One of the simplest ways to decide that is based on pitch fee. So if the organiser is letting you set your own pitch fee, there really is no where to start. Especially if you badly want or need that pitch.
It is very tempting to offer vast sums of money for pitches that look good. We've all been there. If you offer enough I'm pretty sure you could secure almost any festival, but what you are effectively saying to an organiser is that you would be happy to pay £3000 to visit their event and sell your wares. Just supposing you then arrive only to find that over the whole weekend, for whatever reason, you only end up making £2500 it becomes much harder to argue about fairness with the organiser, because you were the one who offered to pay that money in the first place.
The way we work things out is to decide what we could take in a day if we were busy throughout. Luckily we've had a few worthwhile days and a pretty good idea of numbers. Assuming we were to take that much on each festival day, how much would we be willing to part with for the privilege? This is how much we tender.
Not especially scientific, but it also gives us numbers for stock to take. As it happens, this weekend just gone we had a higher share or the market than usual, possibly due to this gentlemen who had 12 toasties over the entire weekend.
If it weren't for the big unknowns then tendering is actually favourable to those with a unique product. You pay for exclusivity, and with toasties we will quite possibly be the only tender. With a burger, pizza, mexican or pulled pork stall you will be competing against a load of other vendors for the same pitch, and will end up paying more.
As a general rule we tender what we can reasonably afford. That way then we get the pitch then we hopefully didn't pay over the odds, and if we don't get it at least we can console ourselves with the thought that someone other muppet paid too much.