Today we were at the Farmer's Market in New Street again, watching the rain and serving a sudden rush of lamb toasties. It led to some thinking, some tea and a hypothesis.
Our best selling toastie is the ham and cheese. When we first started toasting it represented roughly half our sales, and was the cheapest savoury toastie. A year later and the cheese and ham share has fallen behind at many events in favour of goats cheese and other, more interesting alternatives.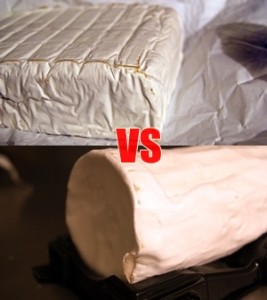 Goat's cheese has a mysterious hold over people. In a straight up battle of the cheeses I would expect brie, fresh basil and slow roast tomato to beat it every time, but regardless of which goat-based toastie we put forward, the same reaction will follow: "Ooh, goat's cheese", followed by a purchase. Even meat-eaters will go for the goat, and seem mildly surprised to find out it doesn't have any animals in. Curious. I apologize to those of you who are not fans, but we feel obliged to make the most of this spellbinding effect on the general public.
Back to my point about the way our sales have changed: People are trusting us with larger sums of their lunch money and increasingly trying more exciting toasties. The questions is: Why?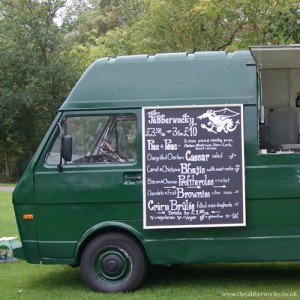 Here's our theory: Back in the days of street food, to keep things simple, everything was the same price. Portion sizes were adjusted accordingly meaning that sometimes the plate was a pretty small one, because the ingredients were expensive. Everything seemed to sell at roughly the same rate. When we started to toast sales jumped, but focused around cheese and ham. Classic, but not really a gourmet toastie even with our fine-ass ham and bitchin' Cheddar in it.
Many experiments and toastie tastings later and we have 30-ish toasties in circulation, with price points from the simple but elegant banoffee at £2.50 up to the magnificently beastly 5-meat 3-cheese Manwich at £7.50. Evidence suggests that a variety of price points make the menu look more reasonable and ourselves more capable, so people are more likely to be tempted towards an adventurous choice. That's the big theory. Allow me to submit data:
Last time in Birmingham we had 3 savoury prices. Ham & cheese and the brie were £3 each, Chorizo, mozzarella, garlic and jalapeños was £4 and the crab, chive mascarpone and wilted spinach was £5. Chorizo sold best that day.
This week we had the ham & cheese alongside the goats' cheese, onion marmalade and rocket at £3, the chorizo as above and the salmon and cream cheese as our premium toastie at £5. However as Barny is now on the mend he'd been able to slow-roast some new season Lighthorne lamb, so that was on the menu with creamed feta and spring onions at £4.50, and people went figuratively nuts for it.
I think a range of prices gives people a better idea of quality, and people are more likely to spend the extra for an upgrade. We didn't sell a single salmon toastie today, even though it was our highest scorer at the most recent tasting and only an extra 50p. Either that or lamb has the same effect on people as goats cheese. For the sake of the universe I think it's probably wise not to combine the two. We might accidentally, literally, figuratively cause a paradox.