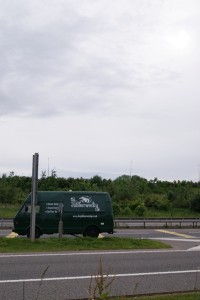 When we last left the Jabberwocky the Beast was sitting forlornly in the car park at our garage, waiting to see if he would ever move again under his own steam. The prop shaft was away in Coventry undergoing surgery and we were still recovering from the wreck of Uttoxeter. It felt like an all time low. Knowing that the van we hold so dear was going to cost us hundreds of pounds before he had even started to pay for himself was a painful thought.
Without the Beast the drive looked empty. Barny's car parked in his spot for a while, but it was like trying to fill a black hole with bath plug. It also rained a lot.
We needed the Beast back for Stratford, but it wasn't as simple as just swapping the parts. Volkswagen haven't made them like him since 1996, and didn't have much in the way of prop shafts for anything less that £1000. The alternative was to send the part of to be repaired in Coventry, and gamble on it being sorted in time, while still paying £300 for the wait. We waited, resentfully considering all the ways we might still be able to get the immobile husk of the Jabberwocky over to Stratford if the repair failed.
The last I heard about it on Friday was that Barny would go an pick it up and just wait until it was done, so the relief of seeing him once more on our driveway when we got home was glorious.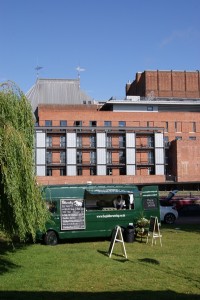 What followed was then almost the exact opposite of the previous weekend, with two days of good weather, crowds of people in such thoroughly high spirits that I did end up reciting the whole of the Jabberwocky at least once and an appetite for toasties that simply could not be satisfied. On Saturday the sun brought the crowds into Stratford and by 2pm we had sold out of toasties. Confused by this sudden onset of success I staggered through the crowds into town and got more bread. We prepared all of that, and promptly ran out again.
By 6pm we were had left the festival and were preparing more toasties, cheesing and hamming into the night and then bree, basil and tomatoing until we fell into bed. Sunday was even better! Crowds of people queuing for toasties – actually queuing – and then coming back for seconds.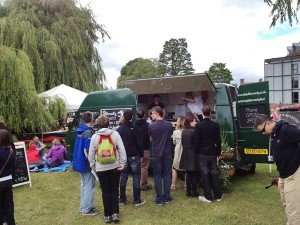 It was such an uplifting feeling, knowing that everything could work out. That we didn't have the wrong end of the stick and that we might even be able to live off what had last week been a volatile heap of rust, but was now a glorious shining dragon, roasting toasties for all the good people of Stratford.
And breathing clouds of smoke all over them as we left. Some things never change.