Last weekend anyone within a few miles of our twitter will know that TV happened. We have been on TV before, briefly, but it did not involve journeys into the centre of London, being live in the studio or cooking for a celebrity chef. I never knew how much effort was involved in getting a few posh toasties on Sunday Brunch. But I'm getting ahead of myself. It all began last week…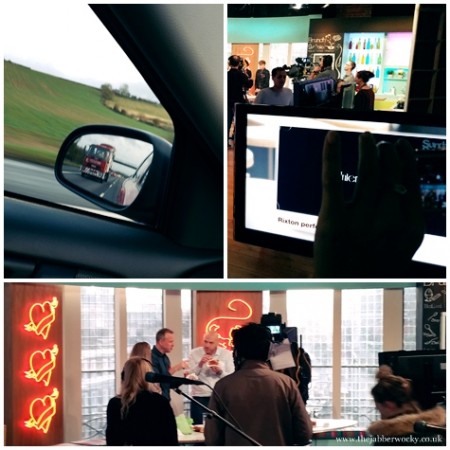 We got an email. Sunday brunch were doing a feature on posh toasties and were looking for a commercially available sweet toastie. They had found a mention of the banoffee on the website and were wondering if we would like to come to London to represent, by the sounds of it, all food that wasn't specifically from London. We agreed, and suggested the Candy Manwich, because it's epic. They were instantly smitten.
Being on the telly is sizeable milestone for a micro business, and we had a free weekend because the van, bless it, was originally going to have his wiring pulled out. Thankfully our latest auto electrician had already got the job done, meaning the Beast now boasts more lights than ever before (fun fact: you can pass an MOT with no reverse lights). With no work on, a trek to London for some free national exposure seemed like a pretty good time investment.
They needed us at the studio for 7:30. In the morning. Street food is not really about early starts, so we borrowed a flat off a friend (thanks V!), scooted down to London the night before and then presented ourselves at the studio doors at 7:30 on the dot.
We were escorted through the tunnels beneath a shopping centre, which is where one does TV production in London, and deposited in the green room to await further instructions. There was tea, and shortly afterwards we were joined by Matt, a stand-up mathematician on the show to do some maths tricks and promote his new book.  The time now was just gone 8:15, and we were joined by half of Grill My Cheese, a London street fooder whom we have heard of but never met. We chatted for another 20 minutes about cheese, toasties and various fillings, and then realised that all the other street food vendors, including the other half of grill my cheese, were already in the kitchen getting ready.
There we met Deeneys and Morty and Bob, both street food, both toasted sandwiches, both London as well. See what I mean about us representing the rest of the country? We talked shop, discussed tactics and generally really enjoyed meeting fellow toastie enthusiasts. I've said it before, but it's worth repeating: street food is the friendliest place I've ever worked. We prepped a toastie each for the reporter, Rebecca, and  she came and tasted them all, took a whole page of notes and asked interesting questions. She was surprised by the Candy Manwich, then a little horrified, and then went back for more.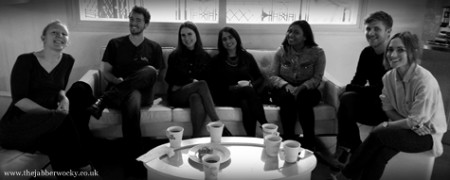 The remains of all the toasties we shared amongst ourselves. I'm delighted to report that if you do ever find yourself in London, and therefore out of range of a Jabberwocky toastie, these folks have got you covered. All bang on with sourcing, great flavours and silly-passionate about the art of toast.
Back in the green room, we met Matt again, and he showed us some of the most epic street food science I have seen, and certainly the only stuff that could be said to be technically science. The maths behind cutting a rectangular toastie into three parts, all with equal crust. Amazed and delighted, we posted this on twitter, Matt retweeted it and the Internet went bananas as torrents of people rushed to tell us it wasn't proper maths, there should never be any need to divide a toastie into three, that the corners made it mathematically incorrect and that it was not maths but geometry. Truly, that is what fame must feel like.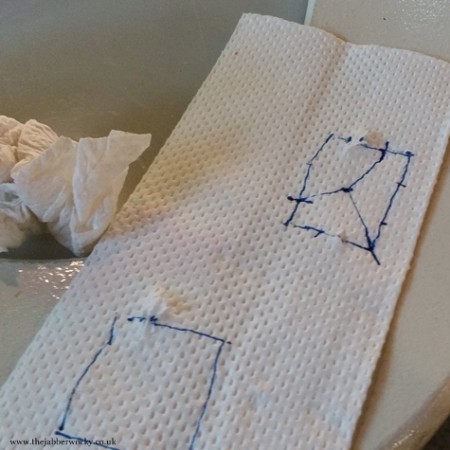 Much later, we began preparing the toasties that would actually be shown on TV. Up until this point I had been quite surprised at how unhurried the process of creating TV had been, but suddenly we were up. Those toasties were needed on set now, and 1 minute 30 seconds was fine, but 2 minutes time was not.
We produced the most beautiful Candy Manwich possible and scampered after the trolley as it disappeared into the studio. Silence fell on set, street fooders squeezed into the surprisingly small off-camera area and the producer counted Tim and Simon in. They spoke to the woman who played Mrs Doyle on Father Ted for several hours. It was probably not that long, but then they talked to Rebecca for another 20 minutes, all the while eating into the precious time remaining to enjoy our food, rapidly congealing on set in front of them.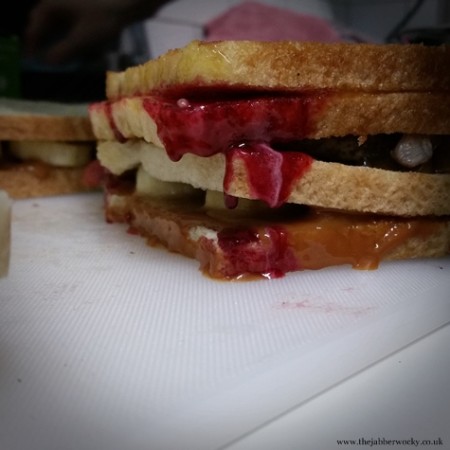 Finally they turned their attention to posh toasties. 4 to sample, ours was last. They munched happily on the first one, and then the producer began to roll things along, and time accelerated. A few brief words about each toastie, unaware that this was the culmination of an entire day of prep and driving and London. When it finally came to our toastie they were disgusted by the possibility of sweet, but impressed by the taste. Outraged at the deep fried Mars bar, but admiring of the candied bacon. Simon Rimmer, actual TV chef, used the words "very very intense" and "insane", Tim, after initial scepticism, conceded that it was "actually quite amazing."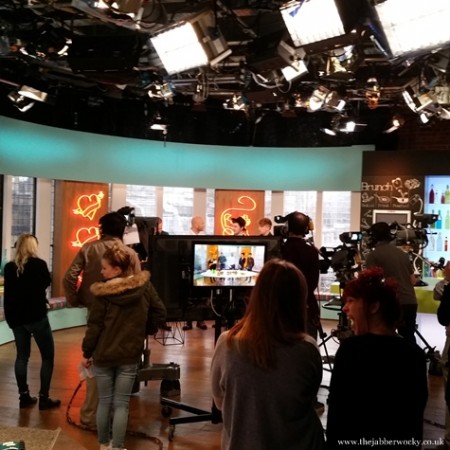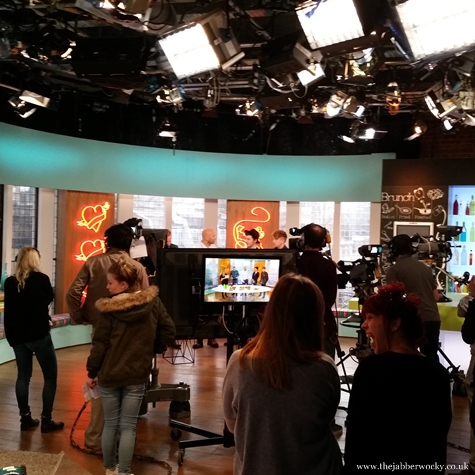 In total, they talked about out our toastie for almost exactly 60 seconds, and then cut-away, intro, and we were bundled out of the studio. There was very little else to do other than pack up our stuff, bid our fellow posh toastie artisans farewell, and then swing back up the M40 in high spirits. Our food on TV – tick.