In street food there are two main types of setup, the kind with wheels and engines and the kind without. Vans give you space and time, gazebos are cheaper and more reliable. My humble and totally unbiased opinion: Vans are better than gazebos.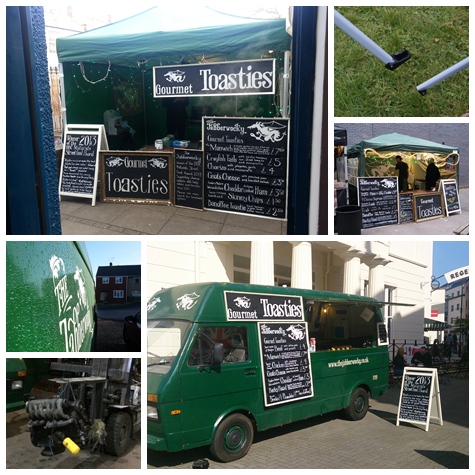 It's not all toasties, tea and glory though. I've documented our truck's rather tentative relationship with brakes, prop shafts and smoke many times; without getting two graphic, old vans breakdown. All. The. Time. See the rest of blog for details.
That's not what you get a van for. Apart from the obvious benefits of being able to shout at it by name (try that with a gazebo) the advantages are as above. Time is acquired every time we visit an event. Setup in the Beast is half an hour, pack down is 15 minutes. a gazebo is twice that if you're good: loading and unloading is the killer here.
Space, however, should not be sniffed at either. Each time the Jabberwocky is sent away for repairs we have to take most of the equipment out of him and store it in the spare room so that we can still trade from the gazebo if we absolutely have to. We then can't get into our spare room until the Beast returns and we can cleanse our house of junk.
If you own a gazebo all this equipment lives either in whatever means of transport you own, or in your equivalent spare room. All the time.
For those of you not in possession of a street food business the volume of associated stuff might not be clear. Starting with the biggest items, I present:
Street food kit in our house, especially when the Beast is away: The cooker (although that's currently a centrepiece in the hallway) the gazebo, two 90 litre super insulated cold boxes,  two 19kg propane cylinders, 3 crates of serving tools and packaging, 1 crate of cleaning materials, 4 folding tables, 12 folding chairs, a hand wash sink, a prep table, 4 cases of drinks, one huge box of insulated cups, one big box of hand towels, one big box of blue gloves, one crate of tools for when the van breaks down.
So you see, being able to store half of that in the van is a huge bonus. On the other hand, due to the above reliability issues, we also store an entire gazebo setup in the house as well. Touché for now, gazebo fans.
Space then, is something of an issue for both sides of the debate. Except that we just got ourselves a shed. It means that all the junk that should live in a shed: lawn mowers, 100 tins of dried-out paint and rock-hard brushes, a collection of rusty-but-no-doubt-useful screws and nails and a few million folding tables and chairs; can finally get out of our house and go and live in the garden. The Jabberwocky kit can move in where the chairs where, we get our spare room back and I can still claim space as a reason to get a van.
In summary: we have a shed and vans are better than gazebos, but mostly because you can shout at them.