Currently, as those of you kind enough to follow us on other social channels will know, the van is once more in the garage. He failed his MOT in two-sheets-of-refusal-notice style. Luckily most of the problems are to do with his wiring, and consequently we expect him to be back on the road again soon. It's another lesson in the Big Book Of Reasons Why Not To Buy An Old Van, which we are apparently in the process of writing.
The Beast will roar again, of course. The future of food trucks is safe in that respect, but I was thinking more about the wider interpretation of food vans: Those that do not live on our drive (or in a garage in Leicester).
This weekend we went to the Real Food Festival Market outside the Southbank centre in London, as we were in town anyway for a tea tasting. I'll have to briefly side-track here: Bell & Brisket for a beautifully balanced brisket on rye with red cabbage, cheese and pickled cucumber and then a quick Korrito with pork and ultra-now kimchi rice. Frankly both were amazing, and I had to drag Barny away before thirds or we would have been late for the tea.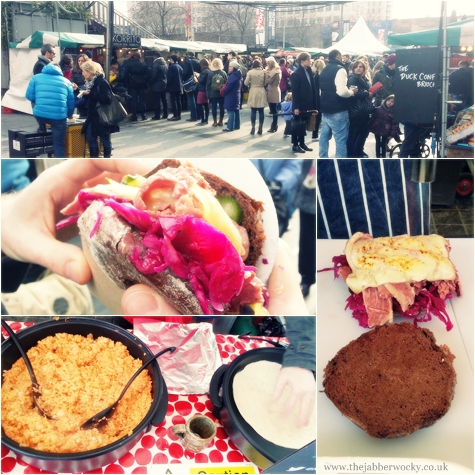 Point of all this was that there were probably at least 20 hot food traders there, and only one single van, the ubiquitous Citroen H Van, serving coffee. Everyone else was presumably required to use one of the stalls provided, to make the market look nice and neat. Leave everyone to their own devices and its true that the majority will arrive with a gazebo of universally different size and colour, meaning untidy promotional material.
Food-truck-free street food is on the rise here, unlike the US where the vehicle is king. Bars and clubs are beginning to realise that they can expand their food offering without having to employ a full time chef by parking a street food vendor in the beer garden or kitchen during peak hours. Our Collective, Scoff, has got one such event coming soon in Wolverhampton, at the Prince Albert, and another established at the Cask and Bottle in Leamington. It's a great format, but it isn't usually van friendly.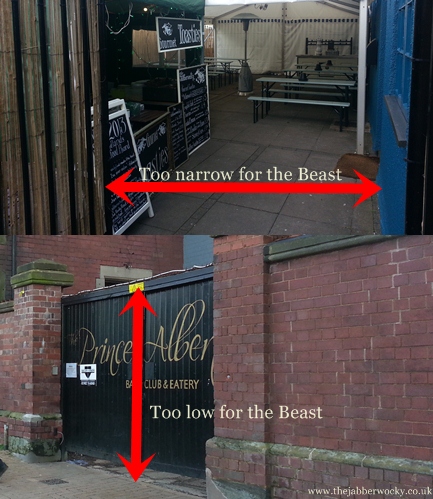 Festivals, on the other hand, are desperate for food vans. They are characterful, especially at boutique festivals. They won't blow away in high wind, which is always nice. They are also a kind of visual shorthand for high quality street food. You never see a thoughtfully decorated horse-box selling sausage-of-dubious-origin. Festival-goers are becoming more aware of the choice on the market, and organisers are upping their standards to meet demand.
This might be where we end up then. Two festivals that refused us last year unexpectedly liked the look of the van and the sound of our offering this year, and to be honest there are far worse ways to spend a weekend: festivals are fundamentally happy places. I would like to keep doing markets though, so we will keep trying to squeeze ourselves in, for as long as the Beast fits through the gate.