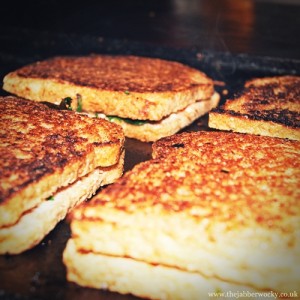 There are more important things than having a 100% mobile van. The Beast still doesn't technically work, but he is now booked in with a specialist who is confident he can perform the required procedure. The surgery needed is a new engine. Doggedly clinging to necessary optimism: this is a good thing, because with a new motor he will be far more reliable and will not puff quite such large clouds of black smoke over people.
While that is still a work in progress we have turned our attention to beer, toasties and having our mates over to see which of our new creations are most likely to cause excitement, moreish feelings and the inexplicable desire to photograph what you're eating.
4 Cheese Supreme, made with caramelised onions, cheddar, mozzarella, Parmesan and Emmental
Caesar Toastie: Smoked free-range chicken, Caesar dressing and mozzarella
Braised shoulder of lamb with feta and spring onions
Smoked salmon, cream cheese, fresh chives and wilted spinach
Roast beef houmous and roasted red peppers
The Rocky Road – two versions
A: Chocolate custard, raisins, dark and white chocolate drops, mini marshmallows and pistachios
B: Chocolate spread, raisins, dark and white chocolate drops, mini marshmallows and digestive biscuit.
I forgot to list the ingredients on the questionnaires. Cheese supreme was apparently not terribly descriptive, seeing as in food terms that's actually just a lump of chicken. So this is probably also the first time most of you find out what you were eating that night.
Our main goal was to test out a string of new toasties which we can then rotate into our menu according to the need, because different events have different toastie requirements. We also finally needed something that could stand against the mighty banoffee toastie and be found worthy, because eventually the world will realise that it has been missing sweet toasties, and we will be praised as heralds of a new era and stuff.
Salmon was the undisputed winner: Topping the charts on taste and exceeding expectations by great big truck loads. This is also the first toastie we will be serving on brown bread, because salmon and the wholegrain work far too well together and it would just be a crime not to. It also gives us another premium toastie, with more expensive ingredients to give our new gourmet toastie image an extra boost.
The cheese supreme is one of our most rigorously tested toasties, because there are a lot of cheeses out there, many of them worthy, but only this combination had just the right balance of smoothness, flavour and stringiness. The onions were glorious, as onions always are.
The lamb toastie was an unexpected favourite, which has led to difficulties. It's a good toastie for spring, being pretty springy, but preparing it is like trying to knit with toothpaste: it all falls to bits and goes everywhere. So instead we are whipping out a toastie technique we should probably get patented, and mixing the feta with cream cheese. Not only does it help mellow the feta, which results suggested was strangling the sheep a little, it will also glue everything into place.
The Caesar and the beef both need more work, but the beef was the best non-cheese sandwich I've eaten in years, and the caesar probably just needs more green. Moving on.
The Rocky Road. Many months in the making, first as just a thought, then an idea floating around the van near the end of the festival. To be honest I was dubious, unsure that anything could match the decadence of the banoffee, but it does. This is the one they'll write songs about.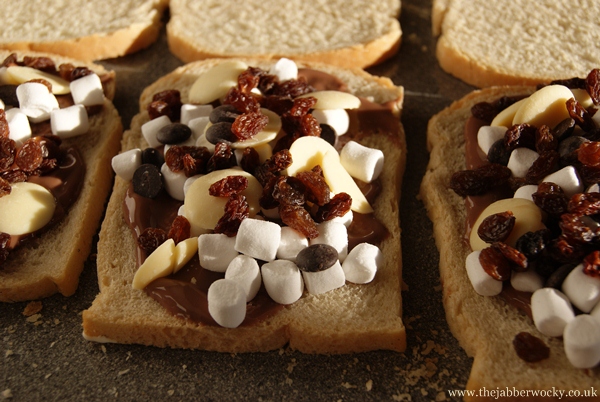 Thank you to everyone who came and helped, it was brilliant, useful and you were all your usual awesome selves. Anyone who would like to see what we did, or vicariously live a toastie tasting remotely can check out the online version here. Special thanks also to A for letting us experiment on you with gluten free toasties.