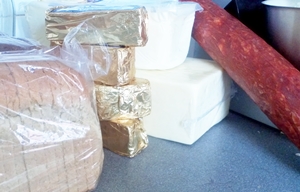 Tomorrow is the first day of the biggest event of the year; the BBC Good Food Show 2013 at the NEC in Birmingham. We won the pitch after a fortuitous series of events involving nominations and voting earlier in the year and have since discovered, by way of an invoice, that the value of the pitch we won in the street food enclosure is worth about £4500.
With 90,000 visitors due to attend and the website getting a reasonable battering from the link on the Good Food website we can expect to be busy, and hopefully running at full capacity for most of the available trading hours. If we are fully loaded with toasties and both of us are serving we can produce about 100 per hour, which with a full queue could translate to 500 a day, which would be stupendous if we can make it work.
On top of the potential to make enough money to be able to pay both of us at the end of this month; which is when I finally drop the day job and jump on board the great ship Wocky, there is also the hope that this will give us some useful promotion locally. Barny will be giving a talk at the bloggers press event (16:55 on Wednesday if you're going to be there) and I guess that there will be press and radio kicking around as well.
This is so exciting. I can't do justice to how simultaneously giddy with anticipation and nauseous with fear I am. On paper, we really can't lose. In practise, where cooking each toasted sandwich has to happen perfectly hundreds of times over on a cooker which, between you and me, occasionally likes to turn itself off, it's a fairly big job. We also have to find a way to store the bits for upwards of 300 toasties a day, including several cubic meters of bread, whilst strenuously pretending that the Jabberwocky has not taken over our lives.
So we currently have the first 30 loaves sitting here waiting to be given the gourmet toastie treatment. We have two fridges full of home made spreadable butter, cheese and meat. Homemade not, I should clarify, because we squeeze the cows ourselves, but because Barny blends the oil and butter in person so that we can actually spread it without putting holes in the bread. There are also two gigantic high performance cool boxes waiting for prepared sandwiches and a haphazard plan for storing all the ingredients needed to be able to actually get through the weekend without selling out too fast.

The Van will have to sleep over at the NEC, meaning we lose his otherwise excellent fridge space for storage. This adds an extra level of logistics and will mean more ordering each day because we don't have room to store anything for longer than that. There is so much back-end work that goes into actually making these huge events happen. We are one tiny component of an event of such colossal scale that in the weeks running up to it we would end up speaking to a different person every day about a different element of our setup. When you multiply it by the hundreds of traders there it becomes an utterly bamboozling mind slush of planning and, presumably, hoping that things work out.
My life used to be so boring. Hooray for street food.