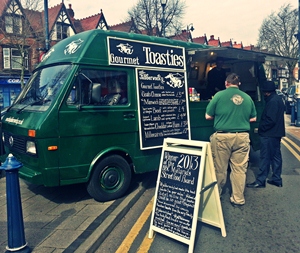 We have had a few requests asking for school resources that can be used for the process of event planning, hiring our van or using our services at fictional events. This document aims to provide real-life information for the purposes of these projects. Please note that all prices are as a guide only and should not be used for actual business models or as a basis for quotes from ourselves or any other street food vendor.
We cater for a wide range of events, but these can be broken down into two general categories;
Corporate/private function (weddings/birthdays/work meetings)
Public events (music festivals/markets/sporting events/etc.)
Safety
These two event types are priced and dealt with differently due the way in which they are organised and paid for. However, all event organisers have certain responsibilities when it comes to the food that will be provided at their event. It is their responsibility to make sure that all the caterers at any given event adhere to certain laws and codes of practise. These are food business registration, hygiene inspection and equipment safety.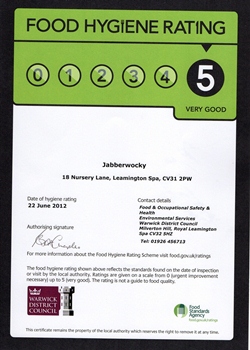 All food business must be registered with their local authority in order for them to sell to the public. Once they have done this they can then be inspected by the local Environmental Health authority in that area. When organising an event all caterers must provide their most recent inspection certificate so that you can check with their local authority that they are compliant with the law and that they are safe to sell at your event. This will also mean that they have considered other risks and hazards surrounding their business, which should be presented as a risk assessment and HACCPs (Hazard Analysis and Critical Control Point) sheet.
Gas safe certificate. Almost all street food and outsider caterers will cook using gas. It is cheaper and easier than using electricity as it is a much more effective means of creating heat. This makes bottled gas very dangerous if it is not used or stored in the proper way. All businesses must have a "Gas safe" inspection carried out annually on any appliances that are over a year old. Before anyone starts to cook at an event it is your responsibility as an organiser to have a copy of a gas safe certificate from every company cooking with gas at your event.
PAT certificate. PAT stands for Portable Appliance Test. This is a test carried out every year on all mains electrical equipment for a business. It means that the equipment is safe to use. Once tested the piece of equipment is recorded on a certificate and given a sticker to show when it was tested. It is vital that ever caterer provides this certificate before plugging equipment into your power supply, as appliances that have failed the test are potentially dangerous.
Public liability insurance. All food businesses must have public and employees liability insurance. Anyone at your event must provide proof of insurance before you allow them to sell food. In addition, as an event organiser (of a public event) you must also have insurance; one of the terms of this insurance will be that all your caterers also have valid insurance.
Licences. If you plan to sell hot food, sell alcohol or play music, even if you are getting other people to do these things for you, you must have a proper licence from the local government before you can allow the public onto your site, even if you have permission from the site owner. This is usually done with a Temporary Event Notice which can be procured from the council. The cost of this application varies from place to place, but is usually between £20 and £150. A TEN is enough for a market or daytime event. If you are planning anything bigger (e.g. Music festival) then you need a special licence which will be much more expensive, but will depend on your area.
Pitch Fees
Private Events. At most private events the organiser will usually pay for a fixed number of toasties (units) beforehand and along with any costs that the caterer may incur. For us to provide toasties to guests it usually costs about £5 per person allowing for second helpings for some people. Most Streetfood vendors will cost between £5 and £10 per person if the food is prepaid. This includes travel costs and VAT. At private events we can usually provide our own power, but this is not the case with most catering units.
Public Events. At public events the visitors will be buying their own food. As a business we have to estimate how many units we will sell in order to take the correct amount of stock. We do not want to be left with costly wastage at the end of the day. This means we have to sell a good proportion of the stock we have brought with us, usually at least 50%, before we actually start making any money. While the amount we need to take to make money varies between events, we are unable to take events that will make us less than £200, because each time we trade we need to cover all sorts of costs regardless of how many units we sell. These include:
Staff costs – not just on the day, but to cover time spent booking and travelling to the event, preparing the food, cleaning the equipment and van in advance as well as tidying up afterwards.
Gas to run our equipment
Fuel for the van and the generator (if in use)
Food costs & wastage
Wear and tear on all equipment (especially the van)
Below are some examples of events and how we might quote for them – specifics depend on the date, location and promotion involved in the event. Potential customers are people who may want purchase food from us on the day, but are by no means guaranteed to do so (further details on portion estimation can be found here). People who are being catered for elsewhere (eg. school trips, picnic eaters

) are not counted in this total.
Small Event (1-200 potential customers) the organiser would pay a fee upfront to cover our costs – it would be between £100 and £300.
Medium Event (200-400 potential customers) then there are usually no pitch fees in either direction.
Large Event (400+ potential customers) we would pay the organiser for the pitch so that we can sell to the public. This is usually 10-20% of our turnover or an upfront fee. The fee we would expect to pay for a large event is difficult to calculate as it depends on number of guests, days the event is on for, how long we can trade for each day and the number of other caterers. To give an idea, at a 3 day festival for 5000 people with 6 other savoury hot food caterers we would expect to pay between £750 and £1300 for the pitch. For a one day event with the same conditions we would expect to pay between £75 and £190. At a one day event people will not usually stay for breakfast or dinner, so you only have one main mealtime.
At large events you will need approximately 1 caterer for every 400-800 people, so that everyone can get food when they want and all the traders can make money. The number of caterers needed depends on the kind of traders you are hiring. Most street food outfits will be run by 2-4 people selling around 100 units per hour. A festival caterer will be staffed by 6-10 people and will be able to serve 500+ units per hour.
At large events as an organiser you must also provide the electricity for the units. This cost of this also needs to be covered by the pitch fee.
Use as School Resources
Hopefully this gives you a little insight into the industry. If you have any further questions please leave them as a comment below, I will get back to you as soon as possible.
You are more than welcome to cite this information in any school project, or use it for personal information. If you have found it useful then we would be very grateful if you could hit one of the sharing buttons, or link to it for other students to use.