Mobile Catering Van Hire
Our van is available for private hire! We can bring cheesy, toasted glory to any event where toasties might be required. Including the end of the world.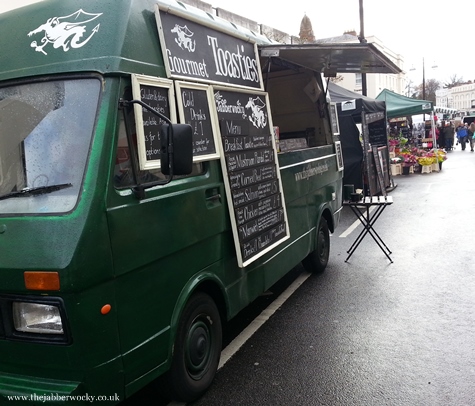 Leamington Spa, home of the Jabberwocky
Jabberwocky Catering Quick Facts
Catering provided throughout Warwickshire and the West Midlands, as well as bordering counties.
All event types catered for, from 50 people to thousands over multiple days.
All dietary requirements, tastes and ages catered for: we have over 80 different tried and tested toasties for you to choose from.
Provision is either from our characterful catering van or a gazebo based setup if there is no vehicle access.
We can run a fully electric, indoor setup if required.
We need 2m x 6m to park, with safe pedestrian access, off the public highway (that's a parking space in most places).
We need a single 13amp hookup within 20m for lights and fridges. We bring our own extension leads.
No power? No problem. We have our own generator.
Catering For My Event
We cater for any type of event, but some crop up more often than others. To give you a better insight we have specialist information for weddings, corporate bookings and, in case you were tempted, zombie street food. Have a browse below!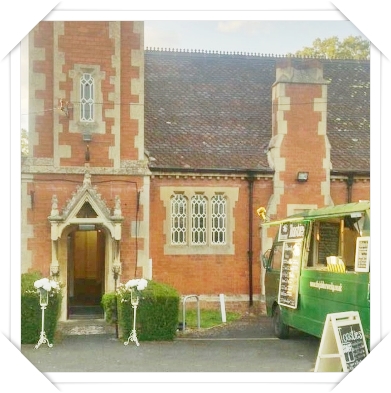 Street food at a wedding: perfect for all kinds of weddings and universally loved.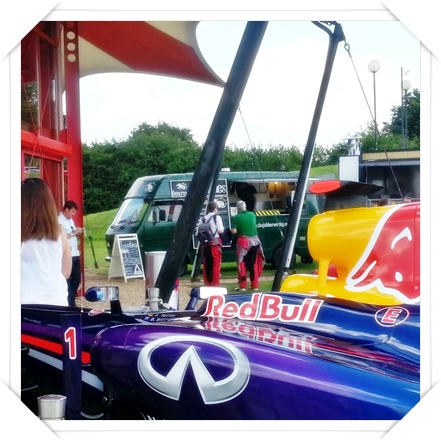 Entertaining clients or treating your staff during deadline season. Say it with toasties.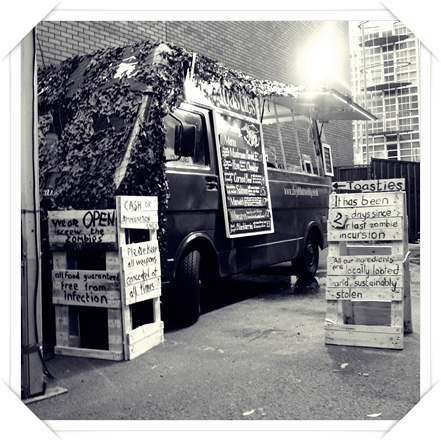 This is the way the world ends. Not with a bang, but with delicious melted cheese.
Mobile Catering Van Hire
There is nothing like a bit of quality food to make people happy. Whether these people are your guests, employees, friends or clients; put a tasty toasted sandwich in front of them and you will be onto a winner. Ever met anyone who doesn't like a toastie? Exactly. That's why we love them. With a super fast setup time, enough food to feed as many people as you can find and a menu that is more varied than any other food type, our mobile catering van is a crowd-pleasing, filling and delicious option for every event you can think of.
Your booking could be for a wedding, a christening, a birthday party, a corporate day out, a seminar or business lunch with a twist. We have seen it all – but we're always open to new, weird and wonderful places to serve. We've been to fields, churches, town halls, schools, sports halls, country retreats and plenty of other venues: as long as we can fit our van through the gate, we can bring the cheese.
Neatly packed into our oversized catering van is a full catering kitchen with no need for external hook-ups. We can be set up and serving your guests in just half an hour. We use disposable, biodegradable packaging, so even the washing up takes care of itself. Rather than spending ages coordinating your catering just point us at a field/castle/garden/roadside/forest and we will cater within it.
Toasties not your thing?
Not a problem! Head over to Yümlaut, our sister company, for more menu variety.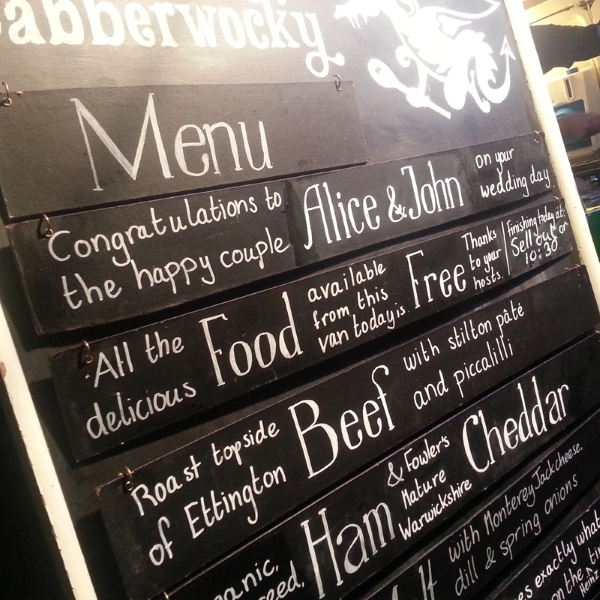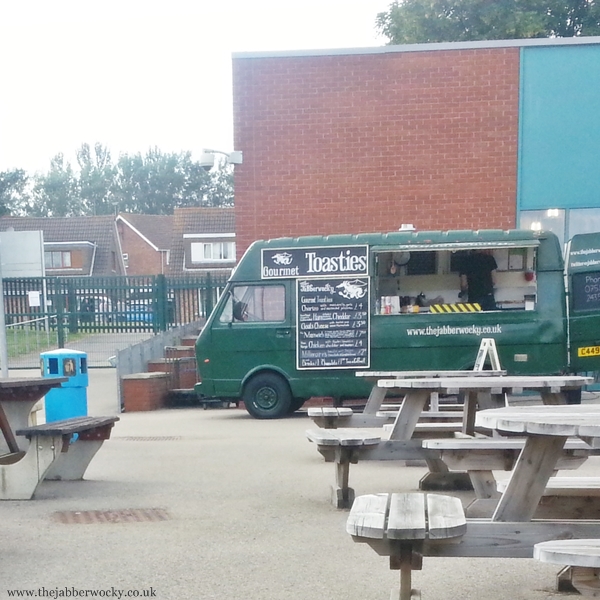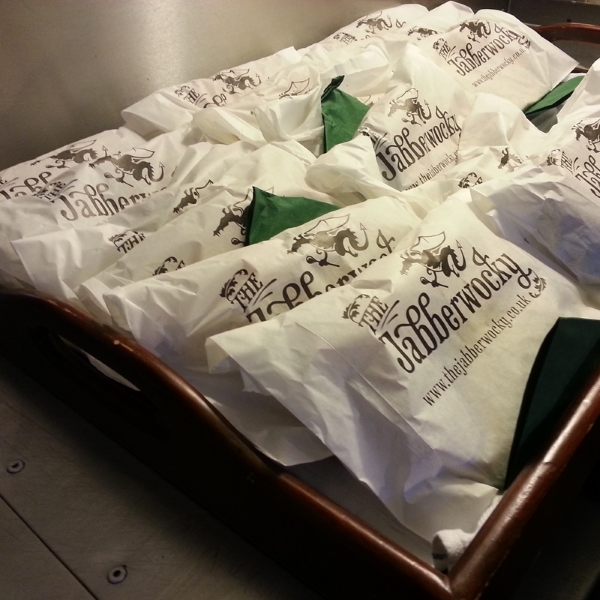 Our Recommended Toasties
Remember the menu is entirely up to you. Say the word and we will send you our 85-point toastie mega-list to drool over. To get you started, though, we would recommend a combination of one toastie from each of the following categories.
The Crowd Pleaser
We would very strongly recommend that you always include the cheese and ham on your menu, especially if you have a very varied guest list. This means you always have a simple option that everyone can get their heads around, and you're free to experiment elsewhere!
Organic ham and local cheddar
Naked cheese – just our amazing cheddar
Cheddar and home made onion marmelade
The Veggie Option
Mozzarella, fire roasted red peppers and pesto
Cornish brie, garlic slow roast tomatoes and fresh basil
Goat's cheese, fresh rocket and home made onion marmalade
Traditional beer and mustard rarebit with cheddar, porcini, oyster & chestnut mushrooms and crispy onions
The Lighter Choice
Free range chicken with mozzarella, parmesan and slow roast tomatoes
Pole & line caught tuna melt with sliced spring onions, Monterey Jack cheese and fresh dill
Crayfish, houmous, sun dried tomatoes, basil pesto and mozzarella
Free range turkey, Camembert and cranberry sauce
Slow roast, curried lambs' breast with fresh spinach, mango chutney and cheddar
The Meaty One
The Meaty Package: German Salami, Italian mozzarella, Spanish chorizo, Warwickshire cheddar and organic ham
Roast Ettington beef with home made Stilton pate and piccalilli
The Reuben: Dutch Gouda, locally made pastrami, gherkins and Russian Dressing
Slow-braised Warwickshire lamb with creamed feta and fresh spring onions 
The Cuban: 8 hour slow cooked pulled pork, local cheddar, Warwickshire ham, Monterey Jack cheese, gherkins and English Mustard 
Sweets and Sides
Sweets
Cheesecake toastie: indulgent creamy cheesecake filling with fresh strawberries
The Millionaires Toastie: Smooth caramel with award-winning Belgian chocolate
Home made triple chocolate brownie
Sides
Cajun spiced potato wedges*
Onion Rings*
Self-service salads: German-style potato salad, green salad, tuna pasta salad
*require an extra 13amp extension to our van