Menus and Prices


This weekend we at Barefoot Festival selling Street Food, and having just spent 4 hours writing the menu I am going to necessarily amuse you all with some exciting facts from that time, because there is simply nothing else in my head right now. Most importantly, I can now draw a passable ampersand.
The last few days have revolved exclusively around the pricing, serving and content of our Street Food menu. Key to this whole exercise is that people buy the food, but we have decided to gamble on a fairly risky menu, in the hope that the leisurely folks of the Barefoot Festival will find themselves suitably intrigued and urgently need to give us money.
This is what were serving. Have a little look, see if you notice what it mean.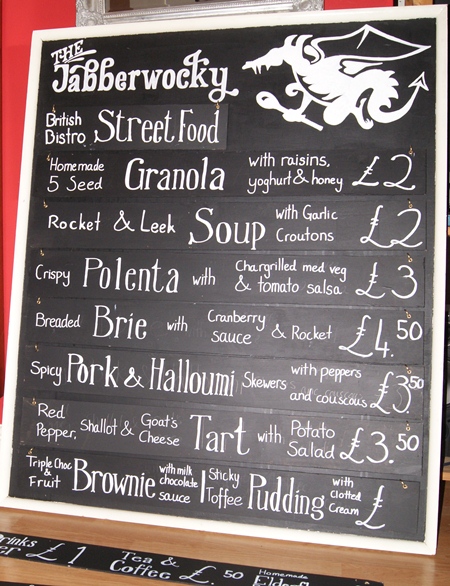 If you didn't notice that there is only one meat dish on there then I think we're on the right track. If you thought everything sounded pretty good then that's even better. If you stopped reading in disgust after the first line then I need to work on my board-based artistry.
There has been a large amount of experimenting taking place at Jabberwocky HQ over the last few weeks, to try and find that perfect dish. We're not there yet, but Barefoot is here, and as far as I can tell it promises to be a field full of people having a good time, so ether way I imagine it will be fun. It is also the first of a busy month, with August fully-booked, and the weather even looking like it might consider playing along.
Our problem is that we have no idea how much to charge for these meals. We have broken away from our original idea of having one standard price and have allowed the market to fluctuate, meaning that anyone ordering more than two things can expect a moment of brief, thoughtful maths before being told the price. Later in the weekend this may become a brief, glazed moment before being told a random number, but we will see. Hopefully this new, more customer-friendly method will tempt people over for a little something and then entice them to part with a few more pence for the brie, which at £4.50 is still hopefully not breaking the bank.
Festivals are pretty new to us. Barny used to go to Leeds once a year back in the day, but he doesn't seem to remember much of it; I have never been to one at all. On the other hand I have camped the hell out of most sites in the south of England and France when I was little, so between us we should make at least one passable festival-goer. The pricing, however, remains a bit of a mystery. Do you aim high, rely on a captive audience and reap the delicious financial rewards or aim lower and just hope to sell some snacks?
We have been over and up and down our prices for days, balancing cost and trying to calculate what everyone else will be charging and how we should compete. I think we are slightly low by festival prices, but if we sell most of what we're taking then we'll make a tidy bit of cash, and I think that's something we can all enjoy.