Last weekend we had more sunshine than for most of the previous summer, and took the opportunity to engage in outdoor activities. Initially this involved painting the fence, which is determined to turn green, but then we remembered one job that has been lurking in our hallway all winter, because we didn't deal with it earlier.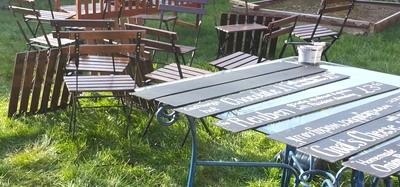 The seating and tables which, in our road, make us the household statistically most likely to win a game of musical chairs, have been loitering in the hallway since the last event that needed outdoor seating. Again, based on the weather, I expect that was probably back in July some time, but we Brits are pretty hardcore when it comes to sitting and eating, and really only one the two supposedly equally important criteria must be filled. We require that either the temperature is above 15°C or the sun is shining.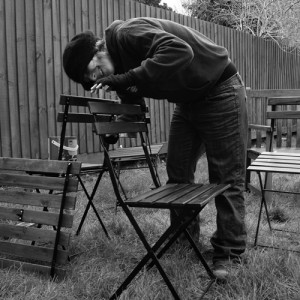 At any rate, the chairs had taken a fair bit of punishment the previous year and were in need of a paint, so I fired up the brushes, pulled the chairs out into the sunshine and gave them a few coats of brown. At the same time Barny was repainting the boards for our giant menu blackboard, and all was well in the hood.
The Beast, however, is still not back. Barny's Rover -Maggie- looks lost floating on the giant driveway without the large green van to keep it company. We are still confident that he will be back in time for Digbeth, but have started to think about contingency, and what "Jabberwocky Unplugged" (thanks to Rocket for that name) would actually look like. While we're all agreed that they would be a pointless waste of time if the dead began to roam the earth, a gazebo suddenly seems like rather a good idea.
There is still time though. Not that I have a tendency towards worst-case-scenarios, but last week's post was about the end of the world. If you happen to be a festival organiser in possession of our booking form then firstly credit for getting this far into the website, and secondly we will very certainly be back on the road by then.
Barny will be back soon with the latest update from the garage. It's not knowing that's hardest. I am compulsively buying teapots as a distraction, so if next week's post starts with something floral and gilt, we're in for a bad time.